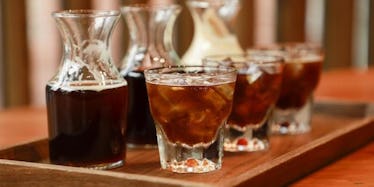 Starbucks Released A Cute New Sparkling Espresso Drink, But There's A Catch
Starbucks
In the event you need a little break from your morning Pumpkin Spice Latte orders (emphasis on "little"), there's a new drink in town that'll kickstart your day. In celebration of a new sparkling beverage menu, Starbucks' cold pressed espresso serves as the inaugural item. The "bold yet delicate" offering is a perfect alternative to the sweet and creamy cinnamon pumpkin coffee if you're looking for a change.
A lot of thought went into the new type of drink. "Our R&D team flipped traditional brewing on its head, and found another way to deliver something even more extraordinary," Andrew Linnemann, Starbucks' vice president, Global Coffee, Tea and Roastery, said in a statement. When the drinks are infused with sodas and citrus, the sparkling look really comes through. Get ready for some Instagram shots before your morning meeting.
The patent-pending technology used to create the latest drink also has a unique quality. "What we produce is a highly concentrated extract compared to what a traditional cold brew gives us," said Kieran Murphy, technical manager, process rngineering, R&D said in a statement. "The extra strength is unique, and allows us to create beverages with more flexibility to experiment in new cold beverage territories."
It sounds incredibly exciting... but there's a catch.
The Cold-Pressed Espresso menu is available for a limited time at the Starbucks Reserve Roastery in Seattle beginning Sept. 12, so if you find yourself on the West coast, definitely stop by for a cup. Three other additional items are available, including the Sparkling Cold-Pressed Americano, the Cold-Pressed Americano Exploration Flight, and the Cold-Pressed Ginger Fizz.
Much like the new sparkling drink, Starbucks does enjoy unveiling amazing-looking treats in opposite ends of the world. Take for example the Tumeric Latte. Complete with steaming milk, aromatic turmeric powder, spices, and a splash of espresso, this offering is the perfect addition for fall and it gave the PSL a slight run for its money. After all, how could you resist something as inviting as this?
Delicious and social media-worthy — right up our alley. This beauty, however, is only offered in London.
Likewise, the chain is also offering a long-lasting taste of summer with the multi-colored Mermaid Frapp... for those in Mexico. It is reportedly made with a green melon crème base and topped with blue whipped cream, blue and pink sugar crystals, and iridescent edible pearls. (Again, for those in Mexico). Starbucks, you're certainly toying with everyone's emotions, that's for sure.
If you're not near Seattle (or London or Mexico), don't fret. There are plenty of other drinks from to enjoy. Starbucks now offers a bottled version of the Pumpkin Spice Latte, so if you're in need of this ready-to-drink bev, visit grocery stores nationwide to snag a few for yourself. 'Tis the season for all-pumpkin everything, so you'll really be ready to rock n' roll with those bad boys.
But regardless of what you decide to pick up before your day at work, coffee does have its benefits. If you're one to get in a workout before the hectic day kicks in, coffee can have its benefits.  A cup of coffee before your ab circuit can reap results such as an increased metabolism, improved circulation, muscle preservation, and extra endurance. (Looks like I'm going to need to start ab circuit workouts). Another study suggests that four cups of coffee per day lowers your chance of death, so at least I'm taking healthy strides to ensure I won't be a goner any time soon.
Though it might be difficult to get your hands on that new sparkling Starbucks espresso, there are plenty of other benefits from other brews, so drink up!