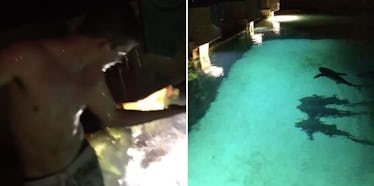 Spring Break Bro With A Death Wish Stupidly Jumps Into Shark Tank At Resort
Instagram
This spring break, the booze-guzzling college party animals of the world aren't hesitating to make memories with their best buddies -- even if it means risking their lives.
Just ask all of the classy young women who were caught twerking on top of cars in Miami earlier this month. If that's not enough evidence, maybe the legendary grandmother who went viral for downing "shots with the girls" will do the trick!
Actually, scrap that. All of the proof you'll ever need that this spring break might just be the craziest one yet lies in a new video capturing the moment some bro with a death wish jumped into a shark tank.
I say "death wish" because, well, why else would you jump into a fucking SHARK TANK?! If Mark Cuban and Daymond John aren't in it, it'll probably get you killed.
In the clip, a couple of bros are partying poolside at the Atlantis Resort & Casino when one of them flings himself into a pool. Only, it's not a pool -- it's an actual shark tank with REAL sharks in it.
The risk taking spring-breaker then quickly climbs out as his terrified friend shouts,
Dude, get out, get out, get out!
Why the panic, mate? Oh, that's right... You're just losing your shit because your daring friend is seconds away from getting his leg bitten off.
Check out the scary moment some dude almost got his leg bitten off after jumping into a shark tank during spring break.
Like you, I'm not too sure what he was thinking, but I guess that doesn't matter anymore. The good news is he made it out alive and no sharks were hurt in the making of that piece of viral gold.
And just like that, another spring break legend is crowned. Now, the car-twerkers and shot-taking grannies have some competition.
Citations: Bro Jumps Into The Atlantis Resort Shark Tank At Night Because SPRING BREAK, WOO! (BroBible)