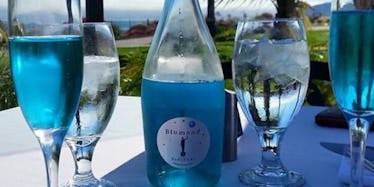 Sparkling Blue Prosecco Exists And It's The Prettiest Wine We've Ever Seen
Instagram
Choosing the perfect sparkling wine bottle for your girls' night out just got a little bit tougher.
While we've been stuck contemplating between various reds and whites, a different color vino hit the market and we didn't even notice.
It's called Blumond, and it's a breathtaking blue prosecco made by the Italian company Fratelli Saraceni.
That's right: It's blue. Take a gander at the beauty and imagine yourself pouring a glass of the bubbly bev.
I don't know about you, but this is definitely the prettiest prosecco I've ever seen.
According to the company's website, the sweet, baby blue wine has an ABV of 7 percent and is best served chilled. In other words, it's the perfect drink for all of your summer festivities.
It's been reported by The Drink Business the wine is made from prosecco, peach and blue curaçao (which gives it the bright blue appearance).
Take another look the beautiful bottle.
The company's website describes the taste as "velvety and seductive," and says,
We wanted to create something very special, excellent & unique that has not been created before, changing the color to a vibrant Blue and making the champagne sweeter and easier to drink... and that's exactly what Blumond is!
Well, I'm definitely sold.
The bottle is mainly advertised for special events like engagement parties and weddings -- but if you're a wine-lover who likes to explore different tastes (and colors), popping a bottle with a friend or two would probably suffice.
If you're into the bubbly blue booze, you can buy a bottle here for $21.96.
Once you've fallen in love with Blumond, you can always explore other barrier-breaking prosecco products... such a prosecco-flavored nail polish.
Groupon recently created the "Prosecco Polish" in honor of Mother's Day, and it allegedly tastes like actual prosecco.
If you're feeling extra adventurous, paint your nails with "Prosecco Polish" and pour yourself a glass of Blumond. You'll transform into a true prosecco goddess.
Citations: Blue Prosecco Is Set to Be This Summer's Hottest Drink (Cosmopolitan)