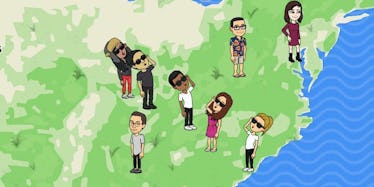 Snap Map Is Giving Bitmojis Sunglasses During The Eclipse Because This Is A Big Deal
Courtesy of Snapchat
Just in case you didn't hear the news (LOL), there's going to be a solar eclipse on Aug. 21. The moon is preparing to throw some serious shade, and in the meantime, you've been flooded with constant reminders about your behavior, your pets' behavior, and your weekly horoscope. Everything — even sweet treats and cocktails — is getting the eclipse treatment. So it comes as no surprise that social media platforms like Snapchat are getting in on the hype. Your Snap alter ego can stay safe during the event, as Snap Map bitmojis with sunglasses during the eclipse are here to protect your eyes while you take in the views.
The interactive, real-time map, which made headlines earlier this year, features your Bitmoji (or what the company refers to as an "Actionmoji") while you're participating in a particular activity. Say you're driving (in which case you shouldn't be on your phone), your Actionmoji is presented on the map in a car so your friends can get the scoop on what you're up to.
For today's special event, your Actionmoji can take in the happenings without hurting his or her eyes, all thanks to the special glasses. The Actionmojis will wear sunglasses while they're in the path of the eclipse's totality, Business Insider reports. It's good to see Snap personas are keeping safety in mind while enjoying the eclipse. (Plus, they're super cute... and a bit invasive thanks to the real-time aspect).
But the map is just one of the features Snapchat is rolling out in honor of the big day. Head to the sticker drawer to see new eclipse-inspired decals. Depending on your location, specific Geofilters will be ready to use, including Geofilters specific to the path of the total eclipse, according to the company's press release. Snapchat's story on the 21st will include photos of the big moment, and is expected to include submissions from NASA and the Department of Interior.
So if you don't have glasses (but your Actionmoji does) head over to Snapchat to get your eclipse fix.