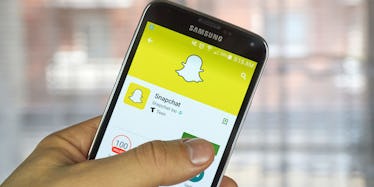 Snapchat's New Feature Will Totally Change How You Interact With Celebs
Shutterstock
Everyone wants to have celebrity contacts in their phone. It makes them feel more powerful than the average human. And Snapchat has just dropped an update that makes it 10 times easier to add celeb accounts to your friend list.
The feature is rolling out on Official Live Stories, according to Mashable. When a verified account pops up you can now tap the username and it will bring up the option to add to your contacts.
For example, in the Pokémania Live Story Jimmy Fallon's Snaps appear. You can add him by tapping his name.
If you haven't noticed already, Snapchat is making some pretty big changes.
Last week it announced a new feature, Memories. You should have this by now. It lets you store Snaps and Stories in a little folder to make them easier to access and resend. You can also mash them together to create new Stories from old ones.
But the sleazy-thinkers among us have worked out the feature can also be used to create the most flawless sexts ever. There's another add-on feature called My Eyes Only that hides your sexy Snaps and Stories from unwanted viewers.
So many updates — and just when you'd finally got to grips with filters.