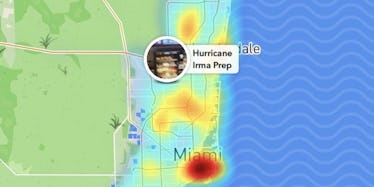 Snap Map Stories Of Hurricane Irma Prep In Florida Will Make You So Nervous
Snapchat/ Amanda Fama
If you're a fan of Snapchat -- like myself -- you probably use the Snap Map feature every so often. When the fun (and not creepy at all) feature first came out, people were a little weary about their friends knowing their exact locations. However, Snap Map has proven to help users do more than stalk their friends -- especially when there's a natural disaster. Right now, Snap Map is using Stories to give users an exclusive view of Hurricane Irma preparation by Floridians, and it's giving everyone who doesn't live there a huge reality check. You can view Hurricane Irma Snap Map Stories in Florida by following a few simple steps.
First, you need to make sure you have Snapchat. This might seem like an obvious first step, but you'd be surprised how many people are curious to see the Stories without the actual app. Once you have Snapchat downloaded (in case you already didn't), you need to make sure it's updated so that Snap Map is an accessible feature. When you update the app, you'll be able to pinch your camera screen until a map of your location appears. The map of your current location should expand to the entire country, and you should be able to see what Snapchat users around the world are up to.
When you view the map, you'll notice small red and orange blurs -- and those mean there's a population of Snapchat Stories in the particular areas. Sometimes they have titles that say what the stories are about, and sometimes they don't. However, when a natural disaster occurs, Snapchat usually names collections of Snapchat Stories in the area so users know what they're about to watch. For example, when Hurricane Harvey devastated Texas, there were various stories on Snap Map that gave users an intimate look into the destruction.
Of course, Snapchat has done the same with Hurricane Irma. But instead of taking a deeper look into the destruction, Snap Map has a collection of stories dedicated to "Hurricane Irma Prep." If you look onto the Snap Map, you'll see this collection is near the city of Miami -- which is predicted to be pummeled by the storm.
It's been reported meteorologists are predicting the storm will take a "worst case scenario" path through Florida Keys and South Florida on Sunday, Sept. 10. On Friday morning, Sept. 8, Janis Dean of Fox News spoke about Irma's path in a not-so hopeful manner. She said,
The core of the strongest winds are going to remain intact over the next 24 to 48 hours, and now we are coming into agreement that this will impact the Florida Keys and South Florida as possibly a worst case scenario with the worst of the storm surge, the worst of the winds, the worst of the rainfall.
After hearing the terrifying news, many Floridians started taking action to protect themselves from Irma's harm. Many of them are flying out of the state to seek safety, but others are boarding up their windows, stocking up on food, water, and gas, and hoping for the best.
Thanks to Snap Map, we're able to see Floridians prepare for the storm in real time.
People are making handmade sandbags for the storm.
They're boarding up their windows and doors with wood.
Some are taking a doughnut break from the preparation.
They're patiently waiting...
There are apparently cops are cops at every gas station.
That's unsettling.
It's eerily quiet outside.
Lots of people are flying to different locations.
This seems like a logical place to hide your lawn chairs.
Water, charcoal, food... check.
I guess all they can do is wait now.
It's a good thing Floridians are shacking up for the storm, because this one is set to be a doozy.
If you're in Florida, stay safe. If you can, use Snap Map to stay up-to-date about what's happening around you.