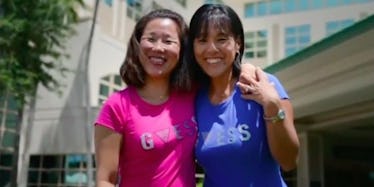 Long-Lost Sisters Reunite When Working At Same Hospital 40 Years Later
Humankind's fascination with separated-at-birth stories laid the foundation for Lindsay Lohan's entire career.
But, this personal story of two sisters unknowingly working side by side in the same Florida hospital is better than any Nancy Meyers movie because when these sisters discovered each other, they also discovered their first biological family members since early childhood.
In the early 1970s, the sisters, now in their 40s, were living in South Korea. When one of the sisters, Eun-Sook, was taken by her mother from her alcoholic father, her half-sister, Pok-nam Shin, was left behind.
Their father eventually died, leaving Pok-nam Shin to wait in a Seoul orphanage from the time she was 5 until she was adopted at 9 by an American family who renamed her and raised her in Virginia.
Eun-Sook, who is two years her sister's junior, also spent time in a Korean orphanage before being adopted by an American family who renamed her and raised her in New York state.
The sisters, now named Holly Hoyle O'Brien and Meagan Hughes, spent their lives living with their adopted families 300 miles apart from one another -- until this year.
Within three months of each other, O'Brien and Hughes were hired to work as nursing assistants on the fourth floor of the same Sarasota hospital in Florida.
As the sisters worked together each day from 7 am to 7:30 pm, their conversations yielded striking similarities, such as their adoptions from Korean orphanages by American families and the "abandonment" statuses cited on their orphanage paperwork.
In an interview with the Herald-Tribune, O'Brien said although she thought the possibility of having found her long-lost sister was "too good to be true," the women still sent away for a DNA kit from Canada.
After swabbing their mouths and returning the kit for testing in early August, O'Brien received an email with positive results on August 17. She immediately called Hughes to share the news.
Hughes recalled,
When I heard from Holly, my first reaction was like, 'Oh my god.' I was in shock, I was numb. I have a sister.
O'Brien was welcomed into Hughes' family and now has two nieces.
She tearfully said,
I have this very strong belief that God must be… Like, whatever I've done, I must've done something good in my life.
Citations: Orphaned sisters reunite while working on same floor at Sarasota hospital (Herald-Tribune), Sisters separated 40 years ago in Korea reunited working in same US hospital (The Guardian)