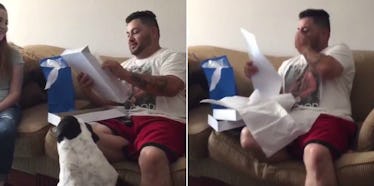 Sisters Give Their Stepdad An Emotional Father's Day Gift And Twitter Is Sobbing
Twitter
It's officially the day after Father's Day, and dads across the nation are gawking over the gifts they've received from their loved ones over the weekend.
However, one father in particular was especially blown away by the gift he was given by his stepdaughters, Caitlyn and Destiny.
Caitlyn, 19, posted a video to Twitter on Sunday afternoon that shows her stepdad opening the present of a lifetime: adoption papers.
The caption she wrote with the touching video says, "My sister and I surprised my stepdad with adoption papers. Forever grateful for you being our father figure."
Get your tissues ready, guys, because this is one emotional video that'll probably make you cry tears of happiness.
SEE!? It told you to get your tissues ready!
In the video, Caitlyn's stepdad can be seen opening his Father's Day present. Once he realizes his daughters gave him adoption papers, he instantly starts crying and appears to be in state of utter shock and disbelief.
Before their stepfather goes in for a hug, he tries to compose himself and says, "Are you serious?"
Caitlyn told Elite Daily about their relationship with her stepdad. She says,
My stepdad has been in our lives for almost 10 years. He's always done so much for us, and we couldn't be more thankful to have him.
Naturally, Twitter sobbed uncontrollably in response to the touching Father's Day gift.
So. Many. Tears.
It's truly a beautiful video.
Some people said they've done the same thing in the past and are super happy for her and her family.
Some people are even tearing up over the dog's reaction to the adoption papers.
"Even the dog loves him," one user wrote.
Yup. It's definitely apparent that everyone is thrilled about the sentimental gift -- and I think it's safe to say this is his best Father's Day yet.
Congrats, everyone!