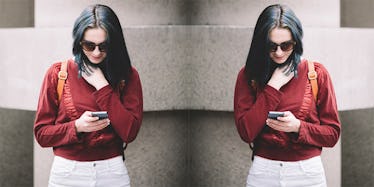 You Get More Attention On Dating Apps If You Have One Of These Names
It's hard out here for a guy named Joel.
According to a roundup of the "hottest names" on dating apps by The Grade, guys named Joel have the toughest times getting swipes based on their names alone.
The top 10 women's names, if you're curious where you landed, were as follows:
1. Brianna 2. Erika 3. Lexi 4. Brooke 5. Vanessa 6. April 7. Natalie 8. Jenna 9. Molly 10. Katie
Bummed your name didn't make the top 10? Samesies.
"Taylor" doesn't show up until #14, despite the man-pulling success of our leggiest, blondest, Calvin Harris-dating-est representative.
Unsurprisingly, bros named Brett are cleaning up in the online dating arena.
The rest of the men's rankings read as though they were rigged by a guy named Jeff.
1. Brett 2. Tyler 3. Corey 4. Andy 5. Noah 6. Shane 7. Jeffrey 8. Rob 9. Frank 10. Jeff
The roundup also includes the most commonly matched names in hetero-swipe-tual situations.
Bretts and Jessicas are meant to be, Bobbys and Lauras are dream lovers and I would have luck with a Shane or a Sean.
As for poor Joel, he keeps the bottom of the list warm at number 113. Someone, please, take a chance on a Joel. Perhaps Tiffany? She's at the bottom of the women's rankings at number 87.
In the meantime, get at me, Shanes and Seans.
Citations: Guess Which Names Will Get the Most Swipe Rights on Tinder? (Cosmopolitan), How Hot Is Your Name? (The Grade)