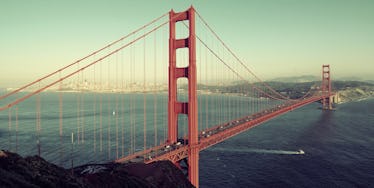 This City Is The Sexiest In The United States, According To Its Residents
Shutterstock
Mirror, mirror, on the wall, what's the sexiest city of all?
According to a recent survey, it's San Fransisco — at least, so say its residents.
Dating site EliteSingles surveyed a whopping 80,000 users throughout the country to determine which urbanites rate themselves most attractive.
It found San Fransisco's residents were most likely to rate themselves as highly attractive than residents of any other city. In fact, on a scale from 1 to 7, the median self-rating in San Fran was a solid 5.63 — significantly higher than any other city.
EliteSingles psychologist Salama Marine believes San Fransisco residents' stellar confidence can be linked back to their comfortable lifestyles. She says,
Why San Fransisco comes out on top might be down to its strong identity which makes it unique from the rest of the US — a healthy, laid-back culture — which helps people be themselves and feel self-confident. Or maybe its just the good food and weather.
Following SF were Atlanta, Boston, Charlotte and Brooklyn.
Check out the full results of EliteSingles' survey here.
Citations: San Francisco residents think theyre the sexiest singles in the US (Mashable)