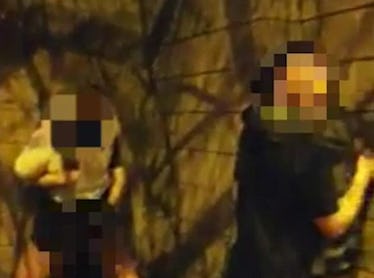 Best Bros Of All Time Caught Having Sex With Two Girls In A Public Flowerbed
Youtube
Bros who have public sex together stay together.
Wait, that makes it sound like the bros are having sex with each other. (Sometimes those bros breakup...)
Bros who have public sex together, with their own respective partners, stay together.
Right outside a Tesco, two men thought some flowerbeds would be the perfect place to drop their drawers and make sweet love to two women.
A passerby was absolutely stunned by what he saw -- but not stunned enough that he didn't think to capture the footage on his phone.
Unable to wait until they were in a more private location, the two couples chose a location next to the store in Huddersfield, Yorkshire as the most romantic location for penetration.
While the 8-second-long clip was removed from Facebook on Sunday, it shall live forever on the internet.
Case and point? Here it is:
People who viewed the video had one of two reactions: laughter or disgust.
Personally, I won't be high-fiving this foursome anytime soon, mainly because I don't know what else they've been doing with their hands.
The person who filmed the scene, who didn't want to be named, said he wanted to document the bad behavior.
He said,
It is disgusting. I'm really annoyed about it to be honest.
This kind of seems like he's sad he wasn't invited, but he continued,
People doing that kind of thing in the middle of the street. It's disrespectful when there's families about. I'm shocked that people are doing this in 2017. They didn't say anything when I filmed them, I think they were embarrassed. I told them to get home.
Not sure why he can't believe this is happening in 2017. Having drunk (I assume) sex in public is a tale as old as time.
Maybe he's just surprised people are still willing to do it, despite everyone owning a phone with a camera?
Obviously, he's never gone through a dry spell. You're willing to get caught having sex just to have sex.
Citations: NOT THAT SORT OF BED Shocking moment TWO randy couples caught 'having sex' against a wall in a town centre flower bed (The Sun)