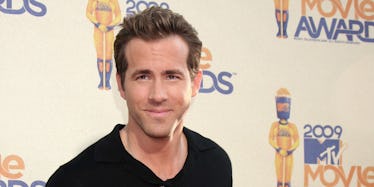 Ryan Reynolds Surprises 'Deadpool' Fan With Tickets In The Best Way
Shutterstock
Mariah Boyle got the greatest surprise from Ryan Reynolds after waking up sans-wisdom teeth in a full-blown panic she missed seeing "Deadpool" in theaters.
Mariah's mom, Rita Miller-Boyle, filmed her daughter's tear-filled, painkiller-induced rant and did as all doting mothers do: She posted it to Facebook.
As far as post-surgery videos go, this one is pretty hilarious.
Mariah Boyle after getting her wisdom teeth out. #ryanreynolds #deadpool Posted by Rita MillerBoyle on Wednesday, February 3, 2016
After seeing the video on Facebook, Reynolds posted the most perfect response, offering two tickets to the "Deadpool" premiere. As a precious side note, he added,
And by the way, Rita, your breakfast casserole looks divine!
Swoon. As if Ryan Reynolds wasn't perfect already (I mean, did you see that Super Bowl ad?), this just takes it over the top.
The next day, Mariah Boyle and a friend were on a plane to NYC for the "Deadpool" premiere. It looks like Vicodin dreams do come true after all.
Citations: Ryan Reynolds Surprises Mega "Deadpool" Fan With Tickets To NYC Premiere (BuzzFeed)