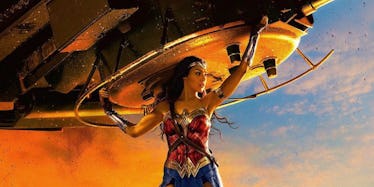 Rumored 'Wonder Woman' Makeup Collection Looks So Fierce And We Need It ASAP
Warner Bros.
Princess Diana of Themyscira is obviously pure #goals, so when we discovered that a rumored Wonder Woman makeup collection could possibly be in the works, we couldn't help but let our inner superhero shine.
According to Pop Sugar, Instagram user @g_glowbeauty was the first to leak the info about Maybelline's rumored superhero-inspired makeup collection.
Soon after, trusted cosmetics source @makeupworldnews shared the makeup brand on their account, too.
Let's take a look at the rumored collection in all of its Wonder Woman glory.
Without question, I need it all: the mascara (which I'm running low on, anyway), the nail polish (which has an adorable yellow hue), the lipsticks, and the glosses ("Me" is going to be my new go-to red).
I could have variations of all these products products in my makeup bag already (which I mostly do), and I'd still buy the Wonder Woman versions.
The bottles look as fierce as Diana's costume, and my makeup bag is going to need a little bit of everything to really capture that superhero look.
But, of course, I have some bad news.
Maybelline tells Elite Daily the Wonder Woman collection won't be available in the United States. They say it will only launch in Italy, which means right now might be a good time to plan a Eurotrip.
Not that you need any convincing to hop on a plane to Italy to buy this collection when it's released, but Wonder Woman is honestly the hero we all need right now.
After breaking record after record, there's no telling what heights the film will soar. Director Patty Jenkins' flick reached the $600 million mark, according  to Entertainment Weekly, and it is on track to pass Phyllida Lloyd's Mamma Mia! —  which reached $609.8 million — to become the highest-grossing live-action film directed by a woman.
Pretty cool, right?
If this success continues, Wonder Woman will also surpass Jennifer Yuh Nelson's Kung Fu Panda 2, which earned $665.7 million worldwide, and therefore become the highest-grossing film solely directed by a woman.
I don't know about you, but I need to celebrate all that girl power with a Wonder Woman lipstick. Keep slaying, Diana!