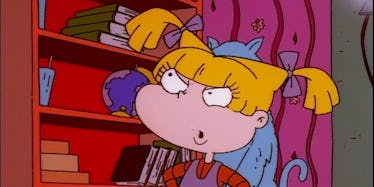 These 'Rugrats' Purses Will Unleash Your Inner '90s, So Time To Get Nostalgic
YouTube
If there was one group that ruled the '90s, you better believe it was Tommy, Chuckie, Phil, and Lil.
The beloved Rugrats are forever etched in our hearts, and now, handbag queen Danielle Nicole is making sure we can carry a piece of this nostalgia with us forever, HelloGiggles reported.
Obviously, I'm eternally grateful for the opportunity to keep my childhood alive.
The handbag and accessories designer is paying tribute to Nickelodeon shows of years' past with her limited-edition 10-piece collection of Rugrats-themed purses, and the Angelica Pickles in us wants them all for ourselves, naturally.
Girlfriend was not about sharing, and neither am I.
Let's face it: If the big kahunas at WWD are designating coverage for the Rugrats-themed purses, obviously they're a must-buy. I assume they probably made their way on the catwalk at Paris Fashion Week. They just scream "couture."
This bag is so fierce I can't handle it. If anyone was destined to be the next Anna Wintour, it was probably my girl Angelica.
Danielle DiFerdinando, founder and creator of Danielle Nicole, suggests pairing your Rugrats tote with classic staples of the decade.
"Style the bags with '90s fashion trends — cropped tops, high-waisted jeans, high-top sneakers, and track pants," she told WWD.
Not only does this collection pay homage to our days on the playground, but it also serves a purpose. Box Lunch, a division of Hot Topic, will provide a meal to a homeless shelter or food bank for every $10 spent.
Now that's a cause that'll make Tommy Pickles proud.
Every Millennial is fond of taking a trip down memory lane. If you're itching for even more '90s references, have a look at this roundup of your favorite TV shows that'll make you pray for a time machine.
Here's to the best years of Nickelodeon... and super-cute new bags.