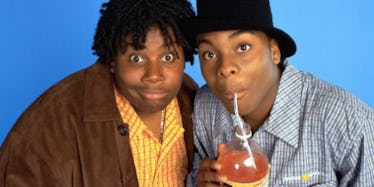 9 '90s Nickelodeon Shows That Will Make Every Millennial Say "OMG, I REMEMBER THAT"
Nickelodeon
Fact: If there is one thing millennials love to cling to, it's the '90s. A proven method to keeping any '90s kid's attention (which, trust me, is a hard task) is to spark up a conversation about Britney Spears or 10 Things I Hate About You.
Who can really blame us, though? The '90s were simpler times, and the culture was just... better. I mean, really, we had the best movies, the best music, and, indisputably, the best television (come for me, '00s kids, I dare you).
With all of that being said, let's take a stroll down memory lane and look at a few of the best shows to grace our television sets in the '90s.
Clarissa Explains It All (1991-1994)
Let's be honest, Melissa Joan Hart owned us in the '90s. She is one of many queens who ate up our TV and movie screens, and we loved every second of it. Clarissa Explains It All is arguably her greatest contribution to the world.* It kept us laughing, the fashion was so tragically '90s, and who could forget the epitome of the annoying sibling, Ferguson?
All in all, 12/10, great show.
(*Please know that Drive Me Crazy is a close second greatest contribution of Ms. Joan Hart's to the world.)
The Secret World of Alex Mack (1994-1998)
There is not a single one of you reading this who doesn't recall Alex Mack morphing into a puddle of silver goop and slithering under doors and stuff. I remember being so jealous Alex got hit by that truck of nuclear waste, and I'm still pissed thinking about the last episode of the show where we're left wondering whether or not Alex takes the cure to get rid of her powers.
12/10, would recommend to friends.
The Mystery Files of Shelby Woo (1996-1998)
How about this gem, eh? I won't lie to you, even I forgot about this amazing show. I know, I'm wondering how I could've forgotten all of the badass mysteries Shelby solved. I mean, she was literally a teenager and way smarter than the detectives she interned for.
10/10, epitome of '90s thrillers.
Are You Afraid Of The Dark? (1990-2000)
You're lying to yourself and to your peers if you say you've recovered from this show even a little bit. As I sit here typing I'm getting goosebumps thinking about the pool monster episode, and don't even get me started on the movie theater Nosferatu episode. NOPE. As terrifying as it was, I'd still watch it all over again.
13/10, invented horror.
All That (1994-2005)
OK, perhaps the king of all '90s shows, All That is iconic. This show had something for everyone. Tell me you didn't laugh out loud at Ishboo, Pizza Face, Detective Dan, Pierre Escargot, Ashley, Ed from Good Burger, or the Complaint Department Lady and I will tell you you are LYING.
Seriously, 14/10, SNL is shook.
Kenan & Kel (1996-2000)
It's been over 20 years since this show began and I still find myself saying "Who loves orange soda?!" Kenan and Kel ruled the '90s between All That and Good Burger, and this show is just proof of how much we loved the comedy duo. Here we are in 2017 and I'd still like a reboot.
15/10, when will your faves ever??
The Adventures of Pete & Pete (1991-1996)
Who could forget this brotherly duo? Little Pete and Big Pete were '90s siblings goals and watching their adventures was '90s entertainment in its purest form.
10/10, would recommend, but lost points because I'm still not sure why they had the same name???
The Amanda Show (1999-2002)
Like All That, The Amanda Show gave us some of the most iconic characters of past century. Penelope Taynt is a genuine legend, Lula Mae invented knock-knock jokes, and Courtney's iconic "Mah-hah" should be transcribed onto the Statue of Liberty. I will not argue over this. Not to mention the show had all of our faves on it, Drake Bell and Josh Peck included. If you ever need a reminder of why we love Amanda Bynes, this show is a perfect place to start.
14/10, please revive.
Cousin Skeeter (1998-2001)
The final show on today's list is Cousin Skeeter. Skeeter was always getting into some kinda trouble and making his smart, well-behaved cousin Bobby look bad. I'm gonna overlook the fact that he was a puppet and nobody ever mentioned that because he was so damn cool it doesn't even matter.
10/10, Skeeter was way cooler than I'll ever be.
All in all, there's one thing to take away from this list: Move over Taina and Zoey 1o1, try as you might you will never beat '90s classics.