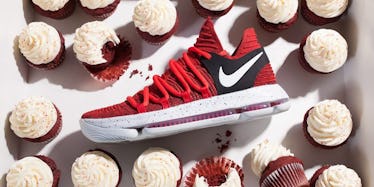 Red Velvet Cupcake-Inspired Nike Sneakers Will Make Your Workout So Much Sweeter
Nike
Nike's delicious new collaboration with Kevin Durant draws inspiration from a dessert the NBA player is extra familiar with: a cupcake. After all, his former OKC Thunder teammates (and their fans) called him one for going to the Golden State Warriors, Eater reports. But the star's Nike collab is more than a jab at haters; the red velvet cupcake-inspired Nike sneakers are an ode to "the sweet taste of victory" that will motivate just about anyone to hit the pavement.
You don't have to wait long to buy these sweet shoes.
The KDX "Red Velvet" will officially be available at 10 a.m. ET on Friday, Sept. 1. They retail for $150, which isn't bad considering their tasty appeal. (When a brand styles its designs around half-eaten red velvet cupcakes, that's my foodie cue to hit the "Add To Cart" button.)
Here's a closer look at the cupcake-inspired details:
Zoom in on the product images of the bold red shoes and you'll find an icing-like shoelace pattern and a speckled white rubber trim that pays homage to the dessert these shoes are so beautifully photographed with on Nike's website.
Speaking of the fitness brand's website, the KDX "Red Velvet" product description is too cheeky to ignore. Beneath a bold launch date announcement, the KD collaboration is described like this:
With a style of play as smooth as velvet, KD is known for having the most fluid game in the game today. Effortlessly making defenders look helpless, always ready to cook his next victim. He dominates the game with unrivaled versatility, forever motivated by the sweet taste of victory. At the end of the day, winning is all that matters and anything else is just icing on the cake. The KDX 'Red Velvet' celebrates the smoothest player in the game and his undying quest for the sweet taste of victory.
Is that beef I smell? Oh wait — nope, just cupcakes and a super cool Nike venture from Kevin Durant.
Reminder: Pick up your own pair of KDX "Red Velvet" at 10 a.m. ET on Friday, Sept 1.
My guess is they'll go faster than a fresh batch of red velvet IRL.