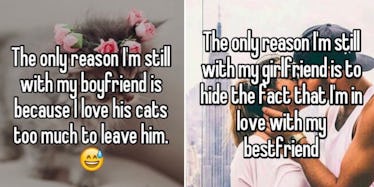 People Confess The Reasons They Continue To Stay In Dead-End Relationships
At some point, I think we've all found ourselves in broken relationships.
There are all sorts of things that make your relationship head south -- whether it's constantly fighting with bae, losing the spark in your relationship or simply catching feelings for someone else.
But if you've ever been in one of these situations before, you know breaking things off with bae isn't always easy.
In fact, that's probably the reason so many of us stay in dead-end dating scenarios that make us downright miserable.
Whisper, the app that lets you anonymously confess your most coveted secrets to the world, recently asked a bunch of people why they haven't ended things with their partners when they know, deep down, things are already over.
Their reasons for not calling it quits include everything from staying around for the free perks and falling in love with their partners' kids to feeling sorry for their significant others and not being able to bear the thought of saying "goodbye" to their cats, of course.
Check out the pictures below to see people reveal the reasons they haven't called off their broken relationships.
I'm not down to play the dating game again.
I'm only staying until he pays up for those tests.
Love is a battlefield.
TBH, I just feel bad for him.
I'm the only one she has.
I'm only in it for the free trips.
He's not selfish when it comes to sex.
Fries before guys.
I love his kids more than him.
I'm using my girlfriend as a cover.
My parents want me to be with him.
I need my damn bra back first.
I don't want to give back the gifts.
I just want him to make good on his debts so I can move on.
I can't bear to leave his cats.
For more relationship confessions, check out Whisper.