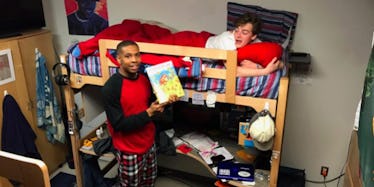 RA Reads A Bedtime Story To A Freshman Because College Is Scary and Weird
Twitter
I don't remember much about my Resident Advisors in college, but I'm sure they hated me.
In fact, the only time I remember interacting with them was when I (sorry mom, dad, Father Ellis, children I babysat, etc.) was incredibly wasted and had four people smoking in my room.
Despite smoke billowing out from my door when I answered, I swore that it must be coming from the guys across the hall.
So, I don't think my RA would do what Q (coolest nickname ever) did for his freshman resident.
Q, an RA at the University of Tennessee, gave every resident a survey to fill out in August of that school year asking what he could do to help make their year better.
Andrew said,
Back in August, with all the craziness of starting my freshman year a bedtime story was a really comforting thought to me.
So, naturally, Andrew wrote  down that he wanted a bedtime story on his birthday.
He added,
I was about 80 percent sure he'd do it. Q and I clicked pretty fast and I knew he was outgoing enough to make some dreams come true.
Q is obviously a professional. He read "Leo the Late Bloomer" to Andrew, and showed off some impressive story-time skills. Andrew said,
Q was really good at reading upside down so I could see all the pictures. Also Q put on his pajamas just for the occasion.
Maybe if my RA read me birthday bedtime stories I wouldn't have dropped out of three schools...
Andrew, who sincerely believes that people will never outgrow the joy of being read a story, said that Q was everything a person could want in an RA, and an "awesome guy all around."
I mean, duh, do you see his cool checkered orange socks/slippers?
Citations: College student asks his RA for bedtime story on his birthday and gets one (Mashable)