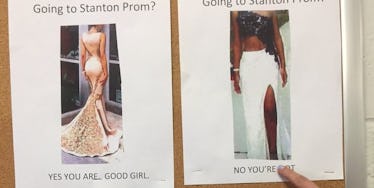 Sexist High School Flier Showing Prom Dresses For A 'Good Girl' Sparks Outrage
Twitter
Ah, remember prom season? Those were the good ole days.
I didn't go to mine because I hated my high school, but I definitely went to other people's proms and had a blast. One of the things that stuck out to me the most was all of the different dresses the girls were wearing.
It just amazed me that there's a way for girls to look like Disney princesses every day, yet they choose to channel their inner Cinderella for one night only. It just doesn't make any sense.
You know what else doesn't make any sense? This dumbass flier some idiot posted up in a high school. Of course, this happened in Florida, but that's beside the point.
Stanton College Preparatory School in Jacksonville is under fire after someone printed out four sheets of paper highlighting which dresses students should and shouldn't wear to prom.
Perhaps the main issue here is the sexist fliers indicate a certain type of prom dress is worn by a "good girl" while the other dresses shown aren't.
The top of each flier asks, "Going to Stanton Prom?" At the bottom of each photo is an answer to that question based on which type of prom dress the student might be wearing.
People aren't the least bit happy about it.
The disappointment is real...
I mean, "good girl," really?!
Did someone not think once before posting these fliers?
Former graduates of Stanton Prep even spoke out in disgust.
Current students at the school even set time aside to speak to the administration themselves.
Even people who have nothing to do with Stanton are pissed.
Pissed might be an understatement at this point!
There were obviously a few class clowns in the replies.
But for the most part, people are NOT laughing.
It's like they don't want women to have bodies or something.
Here's a good question...
The worst part about all of this? Some creepy adult was likely the culprit.
After receiving immense backlash over the controversial fliers, Laureen Ricks, a spokeswoman for Duval County Public Schools, told the New York Post,
Both students and staff have been informed this was not acceptable or appropriate guidance for prom dress attire.
Well, prom should be interesting for Staton students, huh? Let's hope the anonymous prom dress Nazi learned their lesson.
This isn't the first attack targeting women for what they choose to wear. Remember the United Airlines leggings incident?
Yeah, this trend needs to die... FAST!