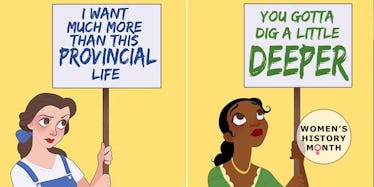 Disney Princesses Imagined As Women's Rights Activists Get Real AF
As if they haven't seen enough battles in their lifetimes, our favorite Disney princesses are suiting up once more to stand with women.
Reimagined by Portland, Oregon native, Amanda Niday, the princesses donned present-day versions of their most memorable attire.
Belle is in overalls, Ariel is in a crop top. Tiana is wearing a choker. They are the feminist icons we've all been waiting for.
The post reads,
Inspired by the Women's March and my firm belief that these princesses would be out there. Dream Big, Princess! See the full images on my tumblr! amandaniday.tumblr.com. Prints available at my Society6!
Probably the most impressive part is the song lyrics that have been transformed into feminist slogans by placing them on poster boards.
The princesses are depicted as weathered, brow-beaten, and worn out – much like the feminists of today who are try to stave off the reversal of reproductive rights and achieve equal pay.
And although this is not the art historian's first time doing fan art, this particular depiction has gained her more popularity than the last 15 of her Instagram posts combined.
These graphics came at just the right time, with much of the political and cultural focus on the next step for women.
There has been a lot of pressure on Disney to portray women as strong, rather than needing to be saved.
The most recent live-action princess film "Beauty and the Beast" has been in the spotlight for the past couple of months due to star Emma Watson's insistence that Belle functions as a feminist role model.
She even went as far to invite Gloria Steinem to the first screening of the movie, to ensure that her ideals were all in tact.
Check out the posts below, and you'll see how relevant the signs they're holding are to today's society.
Tiana
Ariel
Mulan
Pocahontas
Belle
Cinderella
Snow White
Princess Jasmine