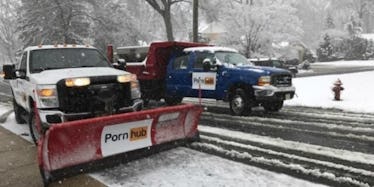 Pornhub Is Helping Anyone Who 'Wants To Get Plowed' During Winter Storm Stella
Pornhub
Like a good friend, Pornhub is there for you when you're lonely.
Also like a good friend, the company wants to help shovel you out after Winter Storm Stella dumped a foot (or more) worth of snow on roads and parking lots.
Despite boasting an 80 billion online video view count per year, Pornhub is one of those good ol' companies that is always giving back.
This is nice. Pornhub serves their purpose and then some. My articles serve this purpose:
Pornhub offers sex education, which is more than I can say for most schools, helps other users with their homework and even keeps us healthy with a useful calorie-counter to see how much you burn while you're having sex.
In between donating hundreds of thousands of dollars to breast cancer research and launching an anti-domestic violence clothing line, the website is helping out residents in Boston and New Jersey.
Pornhub Vice President Corey Price told Boston,
The Pornhub team understands that by this time of year, most cities have run up their budget in snow removal and we thought we'd lend a hand in getting our fans plowed.
Price also said the trucks are available on demand to help small businesses clear out their lots.
SMALL BUSINESS? THIS ONE SMALL TRICK WILL MAKE YOUR BUSINESS GROW THREE SIZES. DEVELOPERS HATE IT...
Sorry, I got... carried away there.
The porn website had over two dozen plows out on the scene, providing their services as soon as the first flakes started to fall.
Price went on to say,
Our fans are important to us and we hope to plow any state in need.
Leave it to Pornhub to be fearless when it comes to dealing with 12-18 inches.
While they did help plow a lot of people, they didn't offer the service to private driveways. Some things you just have to do yourself...
You know, like masturbation.
Citations: PornHub Is Plowing Streets Across The East Coast For Free Because Not All Porn Sites Wear Capes (BroBible)