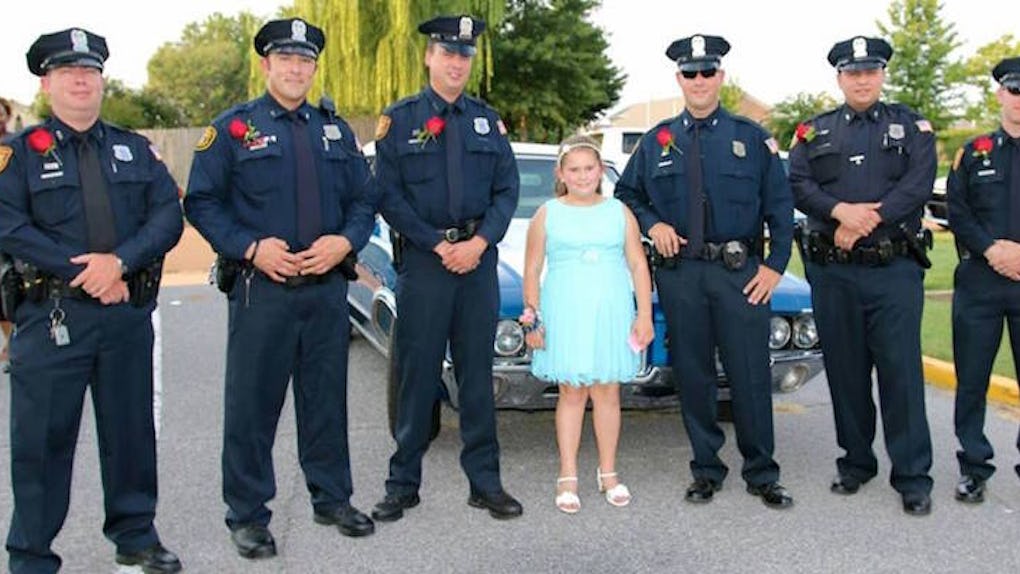 Facebook
6 Policemen Accompany 8-Year-Old To Dance After Her Father Was Killed
When Jewel was invited to a father-daughter dance, the 8-year-old found herself facing an upsetting dilemma.
Her father, police officer Tim Warren, passed away in 2011 when he was shot while investigating a domestic disturbance in downtown Memphis.
Jewel's mother, Betsy, hoped her husband's fellow officers would be able to lend a hand in Tim's stead, and she reached out to police wife Taylor Amen and firefighter widow Donna Kirk, who founded the Our Fallen Heroes Foundation.
Through these channels, Betsy found not one, but six police officers willing to accompany Jewel to the dance.
In a Facebook post, Officer Amen said,
We know we cannot replace Tim, but we can be there for his family when we are needed. It was truly a honor.
In the post, Memphis PD confirmed the six officers greeted Jewel with long stem roses and a ride to the dance in a 1972 Cutlass Supreme.
The six volunteers conga'd behind their tiny date.
They also took time for solo dances with Jewel.
Local businesses lent their services, including flowers and photography. Jewel's dress and transportation were funded by a regional police association.
In an interview with TODAY.com, Amanda Swain, who volunteered to photograph the event, said she was touched to be a part of the festivities. Swain said,
Jewel's smile spoke volumes. These officers, some [of whom] are also dads, enjoyed themselves tremendously. They most definitely made sure that night will never be forgotten. I know I won't forget it, and I'm positive Officer Warren smiled several times as he looked on from above.
Citations: Policemen attend father-daughter dance with girl whose dad died in line of duty (TODAY)