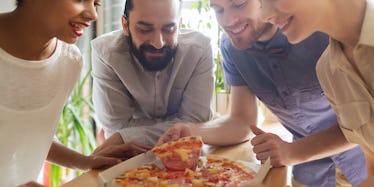 People Are Going F*cking Insane Over This Pizza That Looks Like A Vagina (Photos)
Shutterstock
Themed dishes are not only festive, they say,
I am an adult. I planned for this. I know what holiday/sports game/birthday is occurring at this very moment.
A giant vagina pizza, on the other hand, sends a very different message.
The delicacy was originally meant to be shaped as a rugby ball, but consumers aren't buying it.
@Morrisons... How many people in your marketing department failed to see something other than a rugby ball?...pic.twitter.com/yQivjBJbFs — Danielle Wilson (@DanielleWilso92) September 23, 2015
I mean, they're buying it, but only because it looks like a pepperoni snatcholi.
#morrisons pizza! Meant to resemble a rugby ball! #fannypizzapic.twitter.com/4dhahIJBbP — karla (@misshubery) September 24, 2015
While everyone loves pizza, this themed dish doesn't quite convey "football snack."
Morrisons are selling a rugby pizza for the World Cup. Oh a rugby ball? Yes, that's what I thought it was too. pic.twitter.com/8QXOdtPwUJ — Ben Webbo (@BenWebbo23) October 9, 2015
But it's ON POINT for someone hosting a lesbian bachelorette party.
Still, there are some out there who don't see anything suspicious about the tea-time treat. Perhaps it's all in our heads.
Anyone distracted by the obvious draw in these photos (the low, low prices!) should head to a Morrisons right away before the stores run fresh out of vagi -- er, rugby pies.
Citations: People Are Going Wild For Morrisons' "Rugby Ball Pizza" Because It Looks Like A Massive Vagina (BuzzFeed)