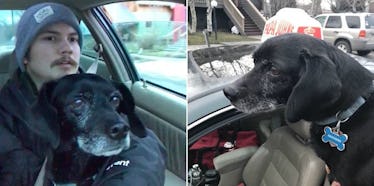 Pizza Delivery Guy Rescues Adorable Dog Named Snickers And The Video's Precious
YouTube/ Reddit
Heroes don't always wear capes. Sometimes, they wear Papa John's delivery uniforms.
Papa John's worker Steven Donovan delivered something much more special than a pizza pie the other day.
Steven was on his delivery route when he saw a pup running across a busy four-lane road, so he decided to pause his deliveries and pull over.
He brought Snickers -- an adorable black dog -- into his car and took him on a pizza delivery trip before returning him to his owners.
Snickers was basically employed by Papa John's for a day.
Steven shared his story on Reddit, and wrote,
I was on my way to deliver a pizza when I saw this little old man running across 4 lanes of traffic, Mr. Snickers helped me deliver the pizza and then I delivered him home 2.5 miles from where I found him.
Apparently, his collar had a tag with his address on it, so Steven was able to get his pizzas delivered before bringing the lost pup back to his owner.
Steven filmed the precious moments he had with Snickers inside his delivery car and the footage is truly heartwarming.
The video begins with Snickers sitting on Steven's lap as he drives down a neighborhood road looking for the pup's home.
He asks Snickers, "Which one's your house?" while Snickers moves to the backseat of the car.
When they finally arrive at the dog's home, he excitedly wags his tail and jumps into the front seat of the car.
HE MADE IT HOME, EVERYONE.
One Reddit user asked Steven if Snickers asked for a slice of pizza, and he replied,
He was such a good boy and didn't even ask, I was a little worried he might be tempted but he just sat on my lap and looked out the window. When I started getting close to his house he recognized the neighborhood and started wagging his tale and running around the car.
Hopefully, his owners gave Steven a good tip for delivering their beloved pup back to them.
Also, Steven better have gotten employee of the month after this delivery mission.
Citations: Pizza guy rescues lost dog during cutest food delivery ever (Mashable), Reddit