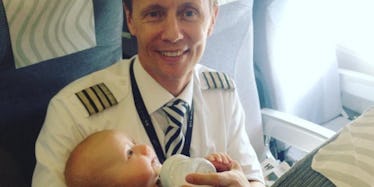 This Story About A Pilot Looking After A Baby On His Flight Is So Heartwarming
Instagram
Unless you live under a rock, you've probably noticed a trend in depressing airline news lately.
Recent stories about planes have been overwhelmingly disappointing, and certain airlines have been ridiculed for their controversial (and bizarre) actions.
First, United Airlines refused to let two teen girls in leggings board its flight because it deemed their outfits "inappropriate."
Then, United Airlines dragged a bloody passenger off its over-booked airplane without remorse.
To top off the terrifying airline news, it's been reported severe turbulence is about to increase by a whopping 149 percent in upcoming years, due to climate change.
Great. Awesome. We're thrilled.
Now that I've completely scared the shit out of you, let's talk about a surprisingly heartwarming story that recently took place aboard a Finnair plane.
Earlier last week, a preoccupied mother boarded her flight alone with her four kids, including two infants and two older children.
In order to stay aboard, she needed to hold one of her babies on her lap while the others sat in their seats... but there was one tiny problem.
She only has one lap, which means she could only hold one baby on the plane.
Of course, she needed to find another person to help carry her second infant. If she didn't, it would have been a "no-go" for the family, and they would have needed to leave the flight.
Thankfully, a pilot named Tom was aboard the plane riding as a passenger, and he stepped up to help the single mother carry her child during the ride.
Ami Niemelä, a cabin crew member, snapped an adorable photo of Tom taking care of the mother's baby on the plane and her caption will warm your heart.
She wrote,
Today we had a mother on board traveling with four little boys. Two of the boys were just babies. Naturally one cannot travel with two babies on one's lap, so we had to solve the dilemma of missing lap, otherwise it would have been a no go for mom and the kids. Luckily we had our positioning crew on board and wonderful Tom took the task of being the extra-lap. Don't you find them quite adorable!
Yes. We find him extremely adorable.
Maybe other airlines will take this as an example of how customers should be treated.
Finnair, FTW.
Citations: This story about a pilot looking after a baby is simply adorable (Mashable)