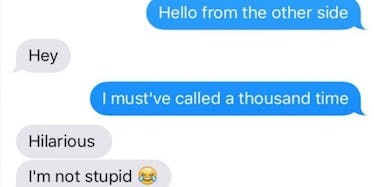 People Are Hilariously Texting Their Exes Using Adele's 'Hello' Lyrics (Photos)
After Adele's "Hello" dropped last month, casual prankster Mary Caldarella wasted no time texting emotional lyrics from the instant hit to her ex in the hopes of eliciting a hilarious response.
The results of her efforts inspired other exes to play the same dirty trick to varying levels of success in the weeks since.
LOL. I'm getting married, and you're dying alone, remember???
Hahahaha -- wait, did Adele actually just help us get closure?
Whatever!! I always hated your keen intellect, anyway.
Get those crying emoji out of here, and let me get back to my FaceTime, ugh.
ARE YOU HAVING A STROKE? BLINK TWICE FOR "YES."
Sorry, nope. You're going to hear me out.
Soooo... nudes?
This is a big moment for you and all, but poppa's gotta drop the kids off at the ol' toilet pool.
HARD pass, sorry.
Bitch, please do not pretend you were ever going to apologize.
Out of 10 attempts, one relationship was salvaged here, and frankly, that couple has the raw, powerful honesty of Adele Laurie Blue Adkins to thank.
Citations: A Bunch Of People Are Texting Their Exes With Just Adele's "Hello" Lyrics (BuzzFeed)