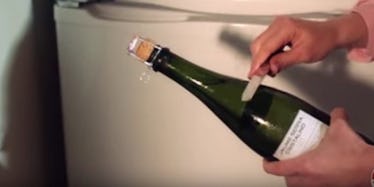 Be The Life Of The New Year's Eve Party With This One Epic Champagne Trick (Video)
No New Year's Eve is complete without a glass (or a bottle, or three) of champagne. Opening those bottles, however, can be a challenge, especially if you don't know the right way to do it.
So before heading out to ring in the New Year this week, brush up on your bubbly-opening skills with this useful video. It demonstrates how to open a bottle of champagne using the 'Saber' technique (i.e. fly the cork off like a master sommelier).
You can use either a knife or a spoon for this fancy-looking trick, but we'd recommend for the spoon because, as we all know, alcohol and bladed objects are never a good combination  --  unless, of course, you'd prefer to spend your NYE in an emergency room.
Follow the video's instructions, and you'll start 2016 as the life of the part.
Citations: How To Open A Champagne Bottle This New Years Eve With Just A Spoon (BroBible)