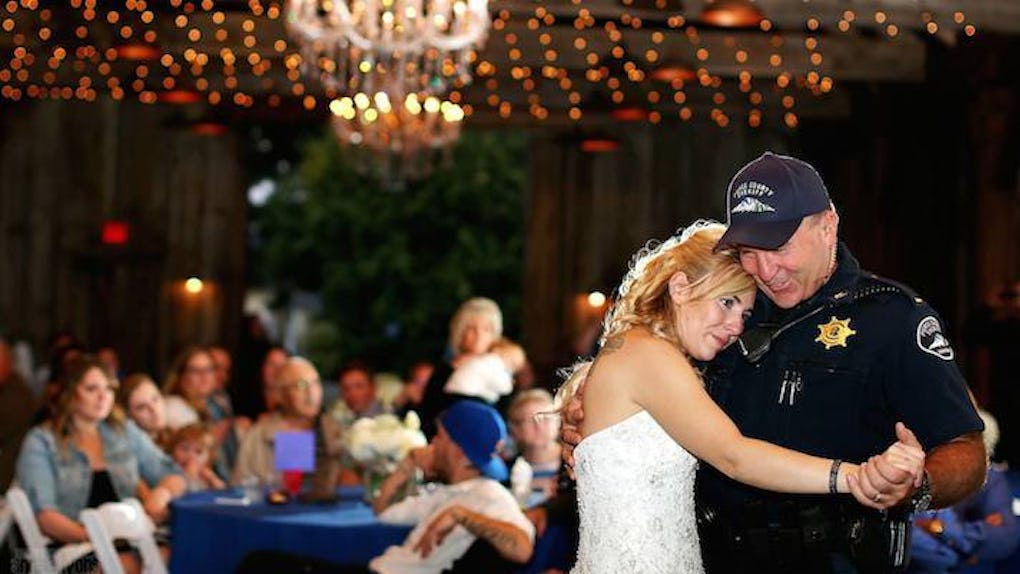 Facebook
Police Officers Fill In For A Fallen Deputy At His Daughter's Wedding (Photos)
For a father, there is perhaps no day more significant than the day of his daughter's wedding.
To walk his little girl down the aisle is to accept her as an adult. It's to let her go, to let her love and be free. And while it's a difficult moment for many dads, it's also an indescribably happy one, both for him and his daughter.
But Kent Mundell wasn't there to see his daughter get married: The Pierce County, Washington sheriff's deputy was killed in the line of duty six years prior.
His family, devastated, tried to adapt and slowly move on with their lives. But when his daughter Kristen got engaged, it became harder for everyone to accept Kent wouldn't be there.
So on the day of Kristen's wedding, Kent's former colleagues gathered in his honor.
As a respectful tribute to the fallen officer, the officers filled in for him, giving Kristen small pieces of the father figure she needed and missed on her big day.
Kristen's father, Deputy Kent Mundell, was killed in 2009 after responding to a domestic disturbance.
Kristen reserved a chair for him at her wedding to honor his memory...
...and Kent's former colleagues filled in for the slain officer during the emotional ceremony and reception.
Detective Don Jones walked Kristen down the aisle...
...while several officers danced with the young woman during the traditional father-daughter dance.
Kristen had no plans for the special dance, and the officers' invitations to dance moved her to tears.
The bride recalled, "I didn't know how to react, how to respond... I just broke down."
Photographer Angela Lyons shared photos from the ceremony to Facebook, where they received the praise and thanks of thousands.
These men are true heroes.
Citations: A Slain Officer's Comrades Stood in for Him at His Daughter's Wedding (Fox News), Daughter of deputy killed on duty gets wedding day surprise (KOMO News)