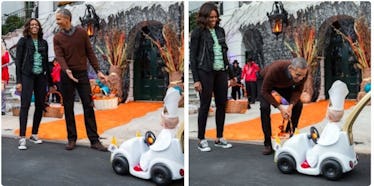 Obama Couldn't Control His Laughter After Meeting A Little Pope (Video)
Pope Francis paid a visit to The White House on Friday afternoon during President Obama's annual Halloween costume party.
The President and his wife, Michelle Obama, were handing out candy to the masses of mini monsters and ghouls roaming the grounds when the Pope arrived in his vintage ivory Volkswagen Beetle.
President Obama was visibly humbled by the religious figure's visit and immediately excused himself from a conversation with Spider-Man to welcome the Pope into his home.
After offering the holy guest a heavenly Halloween gift basket, Obama introduced him to the First Lady. Photographs taken at the event show the three laughing together and having a great time (sources tell us Francis was hopped up on Sour Patch Kids and cracking dirty jokes the whole time).
At the end of the party, the Pope walked (well, rolled) away for the prize for Best Costume. We hear Darth Vader was most displeased.
Check out the video, below, for a video of the Pope's Presidential party-crashing.
Citations: President Obama Couldnt Handle This Kids Adorable Pope Halloween Costume (BuzzFeed)