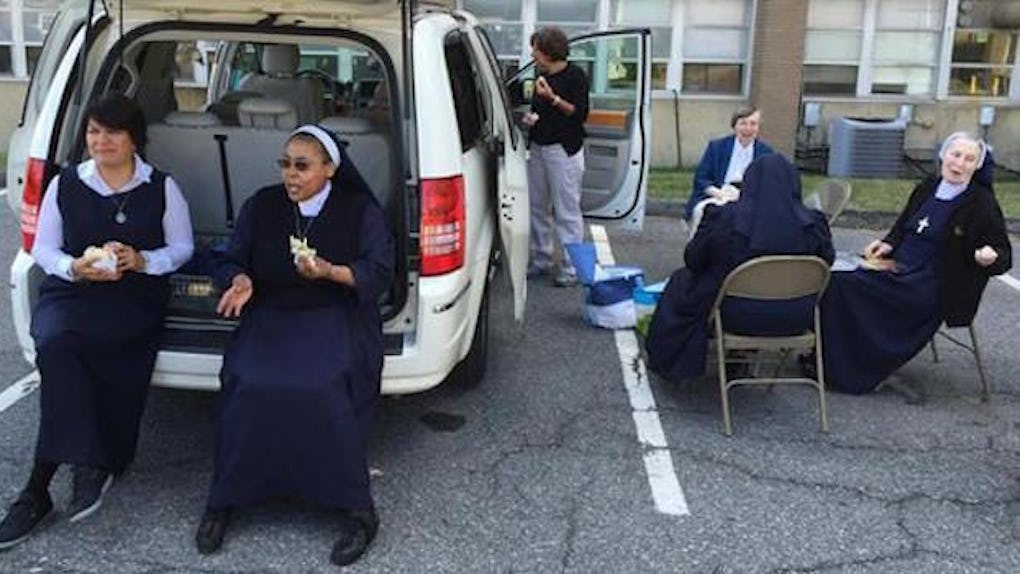 Twitter
These Nuns Tailgating For The Pope's Arrival Are The Coolest People Ever (Photos)
America got pope fever, and nobody is feelin' the symptoms harder than these tailgating nuns.
Unless you live under a Star of David-shaped rock, you're well aware Pope Francis is in the midst of a three-city US tour with stops in DC, New York and Philadelphia.
It's no surprise His Holiness has a boatload of groupies, but I doubt most of them are as devoted as these nuns chilling in the back of their van, grabbin' a quick snack and awaiting the arrival of the son of God.
He's the son of God, right? Is that how this works? I'm Jewish.
The photo was taken at the Basilica of the National Shrine of the Immaculate Conception in Washington, DC.
Nuns tailgating at Catholic U ahead of Pope Francis Mass pic.twitter.com/DKLwTQngaB — Luke Russert (@LukeRussert) September 23, 2015
I assume a few minutes later the nuns put on jerseys and played a quick round of two-hand touch football. Nuns love two-hand touch football. They do, right? Once again, I'm very Jewish.
Pope groupies = popies?
Ew. No. Never mind. I hate that.
Citations: Forget the Pope — It's All About These Tailgating Nuns (PopSugar), Nuns Tailgating Ahead Of The Pope's Mass Today Is One Of The Wildest Parties I've Ever Seen (Barstool Sports)