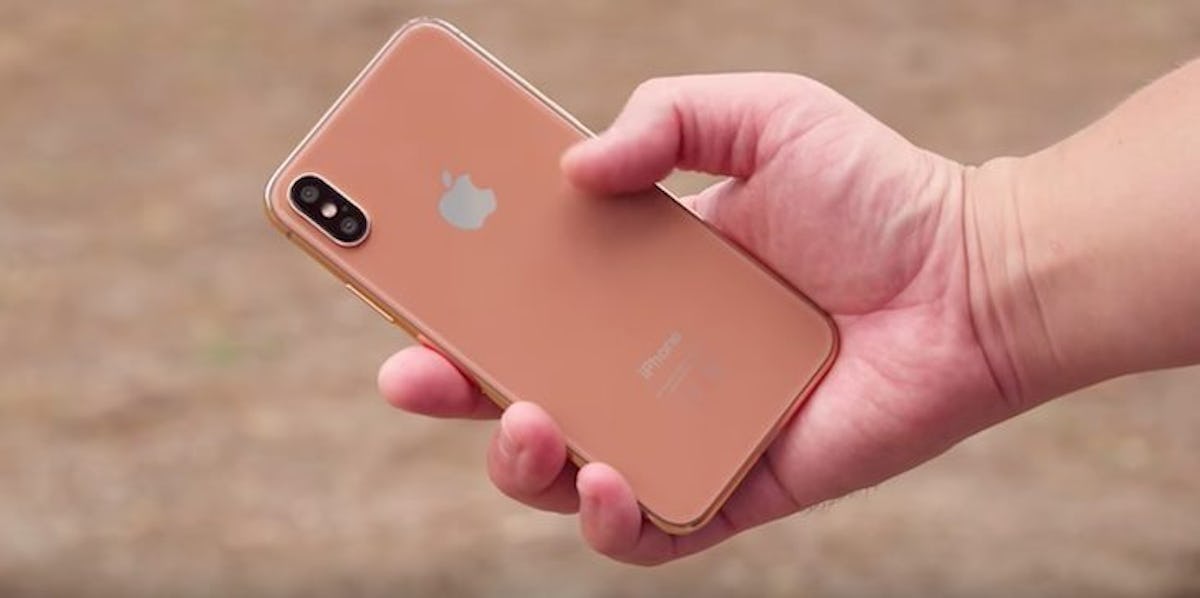 New Video Shows iPhone 8 Color That Might Replace Rose Gold And People Are Upset
If you thought news about the upcoming iPhone 8 would quiet down anytime soon, boy were you mistaken. In the most recent iPhone news, YouTuber Danny Winget is claiming to have the final versions of iPhone 8 dummies. Winget's latest video shows what he claims to be the three official phone colors that we'll be seeing come fall.
Two of the colors are pretty standard, but one of them has the internet up in arms. Folks can't decide if they like the copper gold iPhone 8 model shown in the video, and they've taken to Twitter to express their thoughts about it. The thing about this new copper gold (or bronze) iPhone is that it doesn't really differ much from the previous rose gold version.
In the video, Winget mentions that it's likely Apple will stick to releasing this color — along with a white and black version — in order to appeal to the "fashion crowd," and I honestly think it looks great. Winget also says that the color tones of mockups are usually a bit off and the bronze iPhone might look a little different when the actual phone is released.
I'm thinking Apple decided to go for a more "bronze" iPhone to appeal to a wider audience, but you can see for yourself below.
The Twitterverse can't decide whether they like it or not.
"Wait, apparently the 8 won't come in rose gold??"
"The renders do look nice."
They do look nice, even though people are curious why Apple is even changing the phone from rose gold to copper gold in the first place.
"Looking at the rumors of the #iPhone8 colors and I'm begging #Apple to not leave out the rose gold! That copper gold is ugly."
"If Copper Gold iPhone 8 is a real thing well damn it's 10000x better than Rose Gold."
Seems like Twitter can't agree on whether they like it or not. Either way, the copper gold seems like a great addition to the lineup if it's indeed part of the lineup. But we won't know for sure until Apple announces it, so keep your eyes peeled.