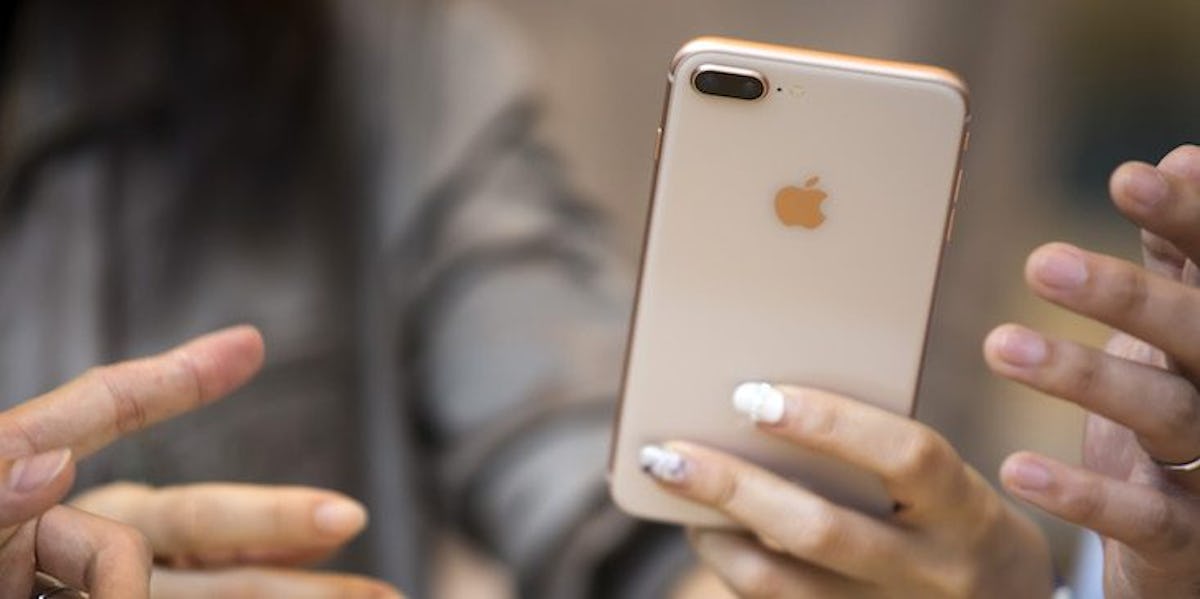 New Camera Filters On iOS 11 Will Add So Much Color To Your Instagram Pics
Tomohiro Ohsumi/Getty Images
If you have freed up enough storage space on your iPhone, you have probably been enjoying the wonders of iOS 11. Aside from awesome new features like the "Files" app (which helps keep you organized) and Siri's five new languages (which will help you communicate with a lot more people), iOS 11 also promises to take your "iPhoneography" to new heights. iOS 11 camera is like no other version of iOS, allowing its users to benefit from editing live photos, a new scanning feature, and the ability to use multiple new filters directly in the camera. Yes, you read that right: There are new filters on iOS 11 that will totally up your Instagram game -- and if you want to know how to get camera filters on iOS 11, keep reading.
To get new, Apple-certified filters on your iPhone, all you have to do is visit "Settings," then "General," then "Software Update" to check if your device has a software update available. If you do have a software update available on your device, just download, install, and voila! You'll have access to all of the new features available on iOS 11. If you don't have enough storage available on your device, you can free up some space by transferring all of the media on your device to a computer, deleting unwanted texts, and removing apps you rarely use.
Once you've made space on your iPhone, you can download and install iOS 11 onto your iPhone — then the fun begins. Now that you have iOS 11, you are free to play with all of the new filters you have available. Now, this isn't the first time Apple has offered filters to its iPhone and iPad users, but the new filters on iOS 11 include Vivid (which, like the name entails, makes your photo much more vibrant), Noir, and Silvertone (which are Apple's new takes on black and white). To find the filters, go to the photo you want to edit, click on "Edit," then click on the button with three circles and you'll see all of the filters available.
Think about how awesome your IG aesthetic will be once you can filter your pictures right on your iPhone without using a third-party app. You will literally become an IG force to be reckoned with now that you have these new filters. But that is not all the new camera on iOS 11 can do.
With iOS 11, users can finally get some use out of those live photos that no one ever knows what to do with. You can now edit these GIF-like pictures directly on your device without the help of a third-party app. To edit your live photo, swipe up on the picture you want to edit and you'll get options including Loop, Bounce, and Long Exposure. Loop allows you to view your live photo in a loop as if it were a GIF, Bounce lets you put your photos in reverse, and Long Exposure shows you all of the moving parts of the photo and gives your picture the look and feel of a DSLR photo.
OK, iOS 11 is basically giving you the editing tools and the features of a $1,000 camera and editing software, all for free without even changing your device. Upgrading to iOS 11 sounds like a great deal because it is far cheaper than the $700 iPhone 8 and the $999 iPhone X. Just make sure you delete those useless apps and random memes you keep on hand to make space for this awesome new upgrade.
Check out the entire Gen Why series and other videos on Facebook and the Bustle app across Apple TV, Roku, and Amazon Fire TV.