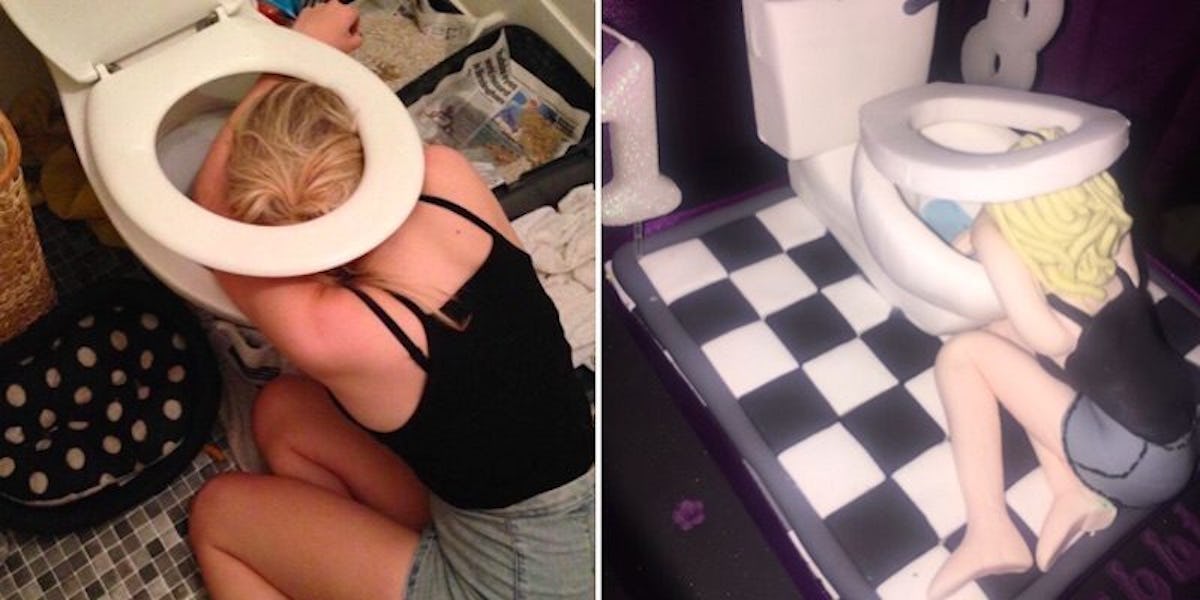 Mom Trolls Teen For Getting Drunk At Family Party With Savage Birthday Cake
We've all seen our fair share of impressive custom birthday cakes.
However, the towered treat that Abbi Price received on her 18th birthday was anything but your plain old vanilla cake.
Yep, when it came time to blow out the candles, Abbi quickly discovered her mom, Sharon Price, had opted for a special custom-made cake that brought back the bitter-sweet memories of drinking way too much one night.
Abbi shared a picture of her comical birthday cake on social media along with the original photo that inspired the hilarious cake topper.
Still haven't got over my birthday cake pic.twitter.com/nAcDyUp5Wk — abbi price (@abbiprice_) August 30, 2016
Apparently, Abbi's mom isn't the only one who thought this birthday cake prank was pretty damn funny, because the picture Abbi posted on Twitter has been retweeted over 19,000 times.
The birthday girl revealed her comical cake was inspired by a photo that shows Abbi clinging to the porcelain throne after knocking back a few too many drinks during "a small gathering with family and friends."
Abbi told Buzzfeed News,
My mom took the photo and has been saying ever since it would be on my 18th birthday cake.
It turns out Abbi's mom clearly wasn't kidding.
When the teen's 18th birthday finally arrived, this trolling parent made good on her promise by giving Abbi a savage birthday cake complete with a sugar-coated sculpture of Abbi drunkenly puking into a toilet, of course!
It just goes to show you can always count on mom to make your birthday extra special.
Citations: A Mom Got Her Daughter The Most Hilarious Cake For Her 18th Birthday (Buzzfeed)