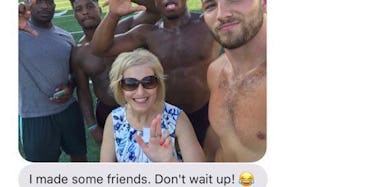 Mom Sends Hilarious Texts To Daughter After Running Into Football Team On Campus
Twitter
I went to a tiny liberal arts college at the northern tip of New Jersey that was so freakin' small it didn't even have a football team.
Therefore, I never really had the chance to gawk over handsome football players running around the field throughout my schooling experience. (It's fine, though -- I swooned over musicians, instead.)
One freshman student named Avery missed the chance to flirt with football players on her college campus, too -- but it wasn't because a football team didn't exist.
It was because her mom met the team before she did.
Twitter user @Avery_Leilani tweeted hilarious screenshots of her mom's text messages the day she was dropped off at her college's freshman orientation, and apparently, her mom made a few new friends.
By "friends," I mean really sexy Texas State University football players running around the grass during a practice.
Based off the photos the football players took of Avery's adorable mother, they joked around on camera and even showed her a few football moves.
Avery posted the text screenshots in a tweet that says, "My mom dropped me off today for college freshman orientation and she sends me this..."
I'll admit: I'm really jealous of Avery's mom and kind of wish I met friends like those on my first day of college.
Here's a closer look at the hilarious screenshots from Avery's text strand with her mom.
"I made some friends. Don't wait up!"
Hey, can I learn a few of those moves?
Avery responded by jokingly calling her mom a "cougar," and then said in another tweet that her mom "got more action than me."
After seeing the monumental screenshots, Twitter went wild. Her now-viral tweet has already gotten over 180,000 likes in one day, and people are super jealous of her mom.
"Me gusta!"
I think it's safe to say Avery's mom has more game than most of us do.
Brava, mama. Brava.