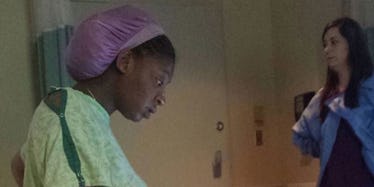 Amazing Soon-To-Be Mom Finished Her Psychology Test While In Labor (Photo)
A new mom didn't believe going into labor was a sufficient excuse for sending an online exam in late.
According to Huffington Post, Tommitrise Collins was in labor for 20 hours at Georgia's Coliseum Medical Centers last week.
Her contractions were reportedly just three minutes apart when she picked up her laptop and finished a psychology test that was apparently due that day.
Collins' sister, Shanell Brinkley-Chapman, documented the incredible multitasking that will no doubt make Tommitrise a fabulous mother.
On Facebook, she wrote,
This is what you call "Strong Priorities". Contractions 3 minutes apart and still takes her Psychology Test! You are going to be a great Mom baby sis! Posted by Shanell Brinkley-Chapman on Thursday, November 12, 2015
Brinkley-Chapman posted another picture that same day showing Collins with her new daughter, Tyler.
The photo's caption praised Collins' "amazing strength," which is perhaps just as important as Collins' belief there's no room for neglecting responsibilities in motherhood.
Citations: Determined New Mom Finishes Psychology Exam While In Labor (Huffington Post)