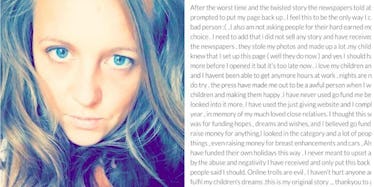 Mom Pens Post Defending Viral GoFundMe Requesting $6K For Trip To Disney World
GoFundMe/Facebook
A mom who was labeled an "absolute chancer" for starting a fundraising page to take her kids on vacation has defended her decision.
Nikki Smith initially withdrew her campaign after she suffered a torrent of abuse from people who argued trying to raise £5,000 ($6,100) to take her kids to Disney World was an inappropriate use of GoFundMe.
But now, the 33-year-old from Bristol, England, has relaunched the page with the hope of giving her daughters, aged 10 and 12, their dream vacation.
And she has penned an emotional post detailing the attacks she received from "online trolls," writing, "I am not a bad person."
She said,
I was prompted to put my page back up, I feel this to be the only way I can speak out. I also am not asking people for their hard earned money, people have a choice.
When she first started the fundraising page, she only raised £10 ($12), despite the link to her GoFundMe being shared 19,000 times on Facebook.
It soon became clear the link was being shared ironically, and people blasted Nikki, calling her "cheeky" and "shameless."
She also said she felt victimized by her treatment in the media.
She wrote,
I never meant to upset anyone. I'm traumatized by the abuse and negativity I have received and only put this back up because a lot of people said I should. Online trolls are evil, I haven't hurt anyone and I was only trying to fulfill my children's dreams.
She also explained she believed the site was a place to raise money for people's "hopes, dreams and wishes."
Other people were raising money for boob jobs and new cars, she added, while she was just a hardworking mom who wanted to take her kids to Florida.
Since resurrecting the fundraising page, she has made a little more money — increasing her overall total raised to £165 ($204).
Citations: Mother who tried to crowdfund her family holiday to Disney World in Florida reopens charity page insisting she 'hasn't hurt anyone' (MailOnline)