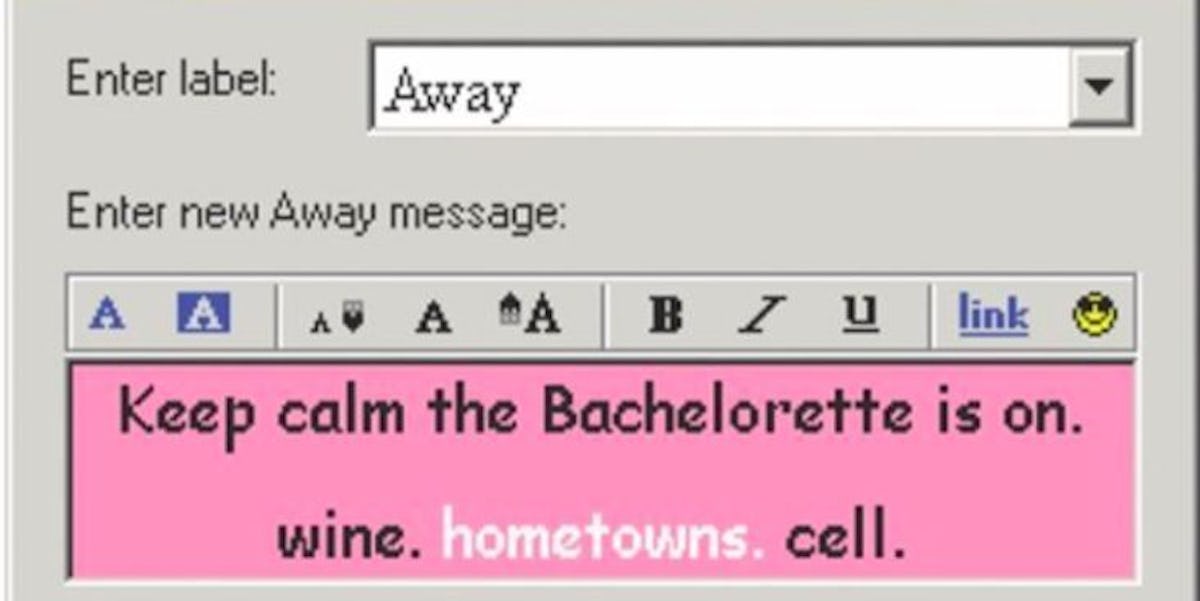 These "Modern Away Messages" Are Just As Hilarious As They Are Cringeworthy
Long before there was Twitter, Facebook, and Instagram, there was a little messaging app called AOL Instant Messenger. If you were lucky enough to experience the era when AIM reigned king, you know how much fun it was to post witty, dramatic, or passive aggressive away messages that would have all of your friends talking. In an effort to relive the good old days, and Instagram account named @Modern_Away is modernizing AIM away messages, and it's hilarious.
Each post uses the old school AIM look but features away messages that are fit for 2017. See the hysterical posts below:
"Long week at the office..."
LOL the post says "Snap Map me" that's amazing.
"Got CrossFit tonight..."
I guess I'm not the only person who punches her keyboard with excitement.
"I'm out like Anthony Scaramucci..."
OK, this one' s hoot, but I don't think Mooch would appreciate it too much.
Imagine if "Despacito" would've been around back in the early 2000s
It might've looked a little something like this.
"The only thing a girl should chase is a shot..."
Never agreed with an away message more. Chase nothing but a shot ladies!
"Hot yoga...breakfast...bloggin til 5"
This seems like an ideal day.
"Insert cryptic song lyric here"
Drake lyrics for the win.
"Can't find the new Jay Z album on Kazaa or Napster..."
Ugh, I know the struggle all too well.
"We ain't eva getting olda"
The Chainsmoker's "Closer" is the anthem for a girls night out.
"Keep calm the 'Bachelorette' is on"
When Bachelor Nation meets AIM.
OK, I'm experiencing total nostalgia going through this feed. Can we make AIM a thing again? After all, it does still exist, and can be conveniently found in the App Store.
If not, you can just follow @Modern_Away on Instagram and relive the golden age of social media.