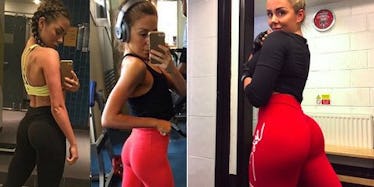 Insta Model Says Secret To Kim K Booty Is Simple Exercise – And It's Not Squats
Instagram
Fitness gurus have always insisted doing endless squats is the answer to getting a bodacious booty like Kim Kardashian.
However, some models have come to the conclusion that tactic is complete and utter crap.
Hold your squats, everyone — they aren't making your butt as bubbly as you'd like.
Speculation recently hit the web when Canadian fitness blogger Abby Pollock realized intense cardio workouts weren't giving her the curvy figure she longed for.
She quickly found lifting weights and eating substantial, nutritious meals helped her achieve those curves.
Personal trainer, 20-year-old Courtney Black, agrees weightlifting is the answer to killer curves.
The curvy model claims lifting more weights and doing less cardio will help you achieve the curves many celebrities have.
She talked to MailOnline about the misconception and said,
Ignore the popular squat challenges. There is no way you'll ever get a Kim Kardashian butt by doing 100 squats every day. It doesn't make you magically grow a bum as a lot of online challenges will have you believe — all it does is burn some calories.
Black changed the way she worked out and began embracing her curves after people on Instagram told her she looked like she was "dying" from being so skinny.
She commented on her past exercising habits and said, "I love my curves now and I'm truly ashamed of how I used to eat and exercise."
To help women better understand her how to work out in a healthy way while simultaneously sculpting curves, she talked about three main ways to get that hourglass shape.
Her first tip is the easiest: EAT!
She said in order to gain curves during a workout, you must eat substantial meals consisting of protein and carbs because you "won't get a sculpted bum by living off salad and leaves."
Black's second tip is to "band up" during a workout to increase the resistance and intensity.
Last, but not least, she said lifting weights is the main exercise that will land you a bod like the Kardashians.
Black said,
No one gets maximum results from running on a treadmill. You need to be lifting weights to get that curvy Kardashian physique. Growing your legs and upper body whilst keeping you waist slim through weight lifting is what celebs do to create that hourglass shape.
If you're worried about bulking up like a man while weight training, have no fear.
Black made it clear female's don't produce testosterone like men do, and lifting weights won't bulk them up like it would for a dude.
So there you have it.
If you want a butt like Kim Kardashian, quit your salads and your squats and start lifting weights.
Citations: Why you'll NEVER get a bottom to rival a Kardashian doing squats: Fitness model shares the very simple secret to achieving the perfect behind (and her before and after pictures prove it works) (MailOnline)