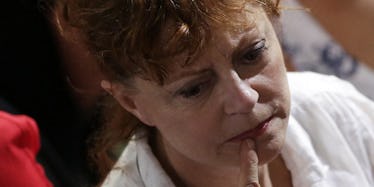 People Can't Stop Making Fun Of How Miserable Susan Sarandon Was At The DNC
REUTERS
You thought you were having a bad day? Just look at Susan Sarandon.
The actress had an absolute nightmare at the Democratic National Convention.
Things haven't really been going the way she'd hoped with Bernie Sanders, and on Monday night she was filling Philadelphia with her stressed-out stink.
At one point, Sarandon was so visibly distressed it later inspired arguably the greatest GIF I've seen this month:
The GIF went down well with Twitter -- especially with Susan herself:
But, some people had no time for Susan Sarandon's negativity.
One person even raised an important question.
@Ian_McK_ @nycjim why is she even there?? — Ko'olina DemoCat (@democat_koolina) July 26, 2016
In case you haven't got the full picture yet, Susan Sarandon is angry about how things turned out for Bernie Sanders.
She slammed what she called a "disgusting" DNC crusade against Bernie.
Asked by "The Young Turks" about what she made of news in the wake of DNC leaks that proved collusion against Bernie Sanders, Sarandon said, "That's so disgusting... I could tell you so many more things that happened on the road... Things like Bernie not being able to get a table inside with his information at certain places."
Here's the full interview.
Citations: Grumpy Bernie Sanders supporter Susan Sarandon is mocked online after being seen 'having literally the worst time' at the DNC (Daily Mail)