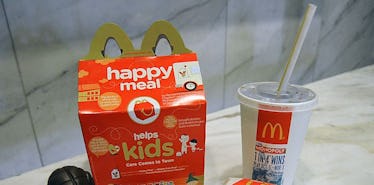 McDonald's Is Teaching Kids How To Read With Happy Meal Books And It's Cute AF
KAREN BLEIER/Getty Images
The best part about getting a Happy Meal as a kid was almost always the toy you got to play with at the end. There have been many different kinds of Happy Meal toys, but in September, they're getting a makeover. Starting Sept. 5 through the 18th, Happy Meals will come with books to "[help] spread the gift of reading to families across the U.S."
McDonald's Happy Meal books will be available at McDonald's in September to celebrate National Literacy Month. McDonald's has come together with HarperCollins Publishers to bring Happy Meal eaters and readers four different books including Pete the Cat's Got Class by James Dean, Amelia Bedelia's First Day of School by Herman Parish, Just A School Project by Mercer Mayer, and You Take a Mouse to School by Laura Numeroff.
The best part is that select locations will be offering these books in English and Spanish. Yay for inclusion! The Golden Arches is also a supporter of Reading Is Fundamental — an organization looking to promote literacy among young children. And by 2018, McDonald's donated around 400,000 books through their Happy Meals.
But this isn't the first time McDonald's raised the bar to give kids a better Happy Meal experience. Mickey D's has already made positive changes to the Happy Meal by offering fruit options that can be switched with fries, and by offering low-fat milk options.
In 2013 alone, they distributed around 54 million Happy Meal books to kids across the nation. Let's see if they can top that number this time. Senior Director of U.S. marketing at McDonald's, Julie Wenger, is excited about this new addition to the Happy Meal. She said,
We're proud to partner with HarperCollins and Reading Is Fundamental and invite families to spread the joy of reading through these fun, classic books in our Happy Meals.
Happy reading, everyone!