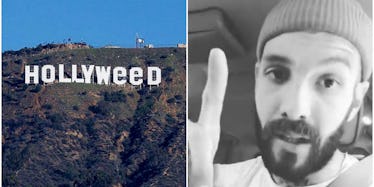 Mastermind Behind 'Hollyweed' Sign Prank Reveals Himself In Bizarre Video
Instagram
It was probably the first viral story of 2017 that made the world smile, and now the mastermind behind the "Hollyweed" sign might have revealed himself.
His name is Zach Fernandez, but he goes by "Jesushands" online.
His handle is plastered all over the sheets used in the stunt, and social media videos appear to have confirmed him as the artist.
In what could be an Instagram or Snapchat story, Fernandez says,
Mission completed. Welcome 2017. I feel great. I'm wishing you all a beautiful new year.
In another, he claims there could be more pranks to come.
So the mission's like 95 percent complete, nah it's probably like 50 percent complete, but keep an eye out and have a safe new year.
A link to his website from his Instagram account reveals Zach is a videographer.
Zach's Instagram has since picked up interest. His latest photo is one of the sign alongside the caption, "In all its glory."
Whoever executed the prank did it under the cover of darkness as the world rang in the new year.
The suspect was caught on CCTV climbing Mount Lee at around 3 am. Police say he was dressed in all black.
Ladders were used to reach the hulking "O" letters. Huge sheets or tarpaulin were used to cover up part of the letters to create the "E" letters.
One was painted with a peace sign and included a message that was wrapped around the letter and too obscured to read.
Another had the tag "Jesushands" written on it.
Social media was awash with photos of the sign and people praising the prank. Many saw it as a good omen to 2017 after the rough ride 2016 spat out.
It is not known if police are looking for Zach.
The person responsible could face a trespassing charge.
Citations: HOLLYWOOD SIGN ALL SIGNS POINT TO JESUS ... HANDS (TMZ)