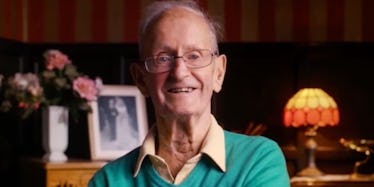 Man Married 65 Years Detailing Day He Knew Wife Was 'The One' Proves Love's Real
Facebook
In a romantic world ruled by dating apps and "ghosting" one another, it's difficult to imagine what true love is like.
Maybe it's just me, but I feel like having a committed relationship with someone is nearly impossible these days.
However, once in a blue moon, a happy couple will emerge that'll serve as inspiration for those of us who have been living the single life for longer than we'd prefer.
Take John, for example. He and his beloved wife have been married for 65 years, and the story about the day he met her will give you faith that love is real.
In a video that's gone viral on Facebook, John tells us in detail about the day he decided his wife was "the one" while he was in the hospital recently with a heart problem.
When the nurse asks him how long he's been married, he responds with, "65 years in June."
Yup. I'm crying already.
Before getting into detail about his first date -- which was June 28, 1946, to be exact -- he prefaces the story by discussing their professions at the time.
He said,
Well, I was a telephone engineer and she was a telephone operator. And I saw this shapely piece walking down the switch room, with her hair flowing. And I said to myself, 'She is the one for me.'
SOBBING. I AM SOBBING.
John then reminisces about the day 70 years ago when the couple went on their first date.
He said he planned on taking his future wife to an expensive theater in Leicester Square, but she intervened and suggested they go to a cheaper film instead.
After the movie, which he later admits was "Dark Corner," they ate beans on toast together.
Years later, the movie began playing on TV and John taped it. He then explained they watch it on special occasions and eat their beans and toast together to mimic their first date.
I can't handle this kind of emotion right now.
Moments after talking about his first date, he tells the camera his wife is in her first stage of Alzheimer's, and admits it's not going to get better.
Apparently, his wife has good days and bad days, and the bad ones sadden John deeply.
In the video, he says,
It's sad. But I can't be greedy, we've both had a good life together.
John's last comment about his wife is enough to send you into tears. He ends the video by saying,
If I had my life all over again I'd want her as my partner. That's for sure.
Thank you, John, for showing us true love does exist.