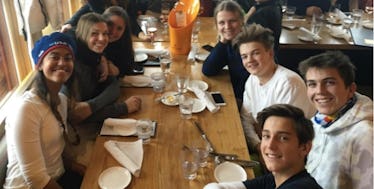 Pics Of Malia Obama At Wild Champagne Party Will Make You Want To Be Her BFF
Instagram
Malia Obama definitely took advantage of the three-day weekend.
With an extra day off from her internship with Harvey Weinstein in NYC, the 18-year-old enjoyed a mini vacation in Aspen, Colorado, where she was pictured kicking back and chilling with a load of her rich kid pals.
Judging by the photo posted on Instagram by designer Monique Lhuillier, a favorite of Malia's mom, Michelle, there was a fun vibe at the friends' ski holiday at Cloud Nine Alpine Bistro on Highland Mountain.
But it was nothing compared to what was going on just outside the restaurant at the same resort.
According to DailyMail.com, Malia and her friends found themselves right next to an insane birthday party on Sunday.
About 100 people were spraying more than 200 bottles of champagne, while others were dancing on tables.
Seriously, it looks absolutely off the chain.
Matt Chirichillo documented the party on Instagram, and wrote,
Spraying off Champagne fireworks with a bunch of marvelous maniacs and Obama's daughter.
However, it's thought Malia and her friends stayed inside rather than venture out to the mountaintop party.
Rocking a red, white and blue USA hat, she doesn't exactly look ready to turn up, but I like to think Malia was dancing on tables as soon as the camera was put away.
Honestly, we're supposed to believe it was a coincidence there was a huge rager at the same ski resort where she was staying?
Ski holidays and insane parties — Malia, please can we be best friends?
It's thought she flew back to New York on Presidents' Day ready to return to her internship on Tuesday.
And while flying back, she helped out fellow plane passenger Sydney Mondry, giving her the chance to bust out the vastly under-rated "Thanks Obama" meme.
Before her internship, Malia went on an 83-day trip to South America, taking in Bolivia and Peru — so she'd be a pretty great person to be friends with.
And her BFFs have also got college parties to look forward to because she is heading to Harvard in the fall.
Citations: DailyMail.com