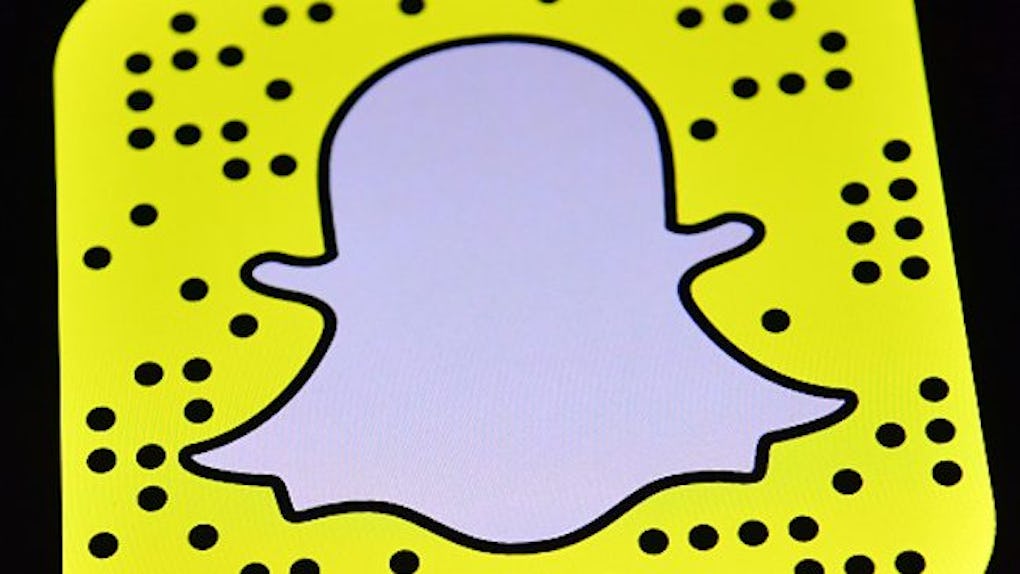 Carl Court / Staff / Getty Images
Easy Snapchat Filter Costumes For Halloween That Aren't The Cute Puppy
It's well into September, and your Halloween costume brainstorming needs to start, like, now. Luckily, fun with filters isn't just a way to pass the time while you're waiting for your perpetually late bestie to get to your PSL date. Get some inspiration from the photo app as you learn how to make easy Snapchat Filter costumes for Halloween.
The app has had many different filters since it debuted, but currently, it is very animal-centric. Maybe they're gearing up for the spooky holiday by taking a page out of the Mean Girls playbook. The good news for you is that this means there are way more options than just the stereotypical tongue-out puppy.
If you don't want to go the animal route, Snapchat has some other clutch filter options to make sure that you kill the damn game wherever you happen to find yourself on October 31.
The best part about using filters as costume inspiration is that you can easily pull the costume together yourself without too much hassle. Seriously, a little hot glue and quick trip to the craft store, and you'll be set. Oh, and make sure you get your selfie face ready because you are going to be the snap star of all the photo ops.
1. When In Doubt, Sparkle
This first costume is basically an upgraded version of cat ears, but this bedazzled version of the feline will make sure that you stand out from the other whiskered party goers.
How to make it? Grab yourself an inexpensive pair of cat ears and glue the sparkliest gems you can find right onto them. As for your adorable diamond nose? Look for those gems in the craft store that come with adhesive backs -- and maybe pick up an extra (or two) in case it falls into your witch's brew during the night.
Kardashian kiss face is totally optional.
2. Throwback Filter
This next costume is (sort of) an animal -- maybe a fictional one? You can dress up as the Pikachu, the cutest trading card of the '90s, and the most frustrating game of the summer of 2016 (Pokémon Go was my Everest).
The best way to achieve those cartoon ears is to cover up a pair of bunny ears with yellow and brown felt (hot glue or staples will work) -- that way the bunny ears will give you a template for the shape. For those cheeks, find your rosiest blush (or get super method with it and just swipe some red lipstick on your face) and start circling. Finally, a little black eyeliner on the tip of your nose will complete your nostalgic transformation.
3. One Last Party Before Hibernation
If scary sights are not your favorite part of the holiday, then this sleepy bear costume is the perfect solution.
All you need to do is to grab some round ears and cover them with material cut from an inexpensive fluffy, pink towel -- that'll give you that shag-carpeting-like texture. You can easily hot glue them into place, or you can try your hand at a few expertly-placed staples (just make sure the ears are not on your head yet!).
As for the mask, try the discount store for an inexpensive sleep mask, and then cover it using the same material you used for the ears. Top it off by using a Sharpie to fill in those sleepy bear eyes. You'll probably want to recruit your bestie for this one because, well, sleeping bears can't see that well. It's also totally acceptable to wear the mask on your forehead -- just slide it down for pics.
If you prefer to be mask-free, throw on some false eyelashes and go heavy on the blush, pink eyeshadow, or pink face paint to create a similar look.
Once again, the kiss face is your prerogative.
4. Some OG Halloween Scares
You might remember this filter from quite a few months ago, but it is perfect for the holiday. Basically, it's a red-lipped vampire. Easy enough, right?
You'll need: a pair of those plastic fangs, some vampy red lipstick and lipliner (it's gonna be a long night), red or coppery eyeshadow, and if your back account can swing it, some creepy AF red-colored contacts. Top it off with some wicked false eyelashes and you'll be ready to talk True Blood all night.
Post-run, sweaty cutoff style is very optional.
5. Stay Comfortable And Get All The Laughs
If you live where chilly temps are the norm in October, then the dancing grandma filter is the perfect costume for you.
Hit up the thrift store and pick out the best granny duds you can find. A mid-length skirt and a blousy top, preferably in bold (and slightly clashing) colors will work best. Grab a pair of pantyhose, and lace up your comfiest tennis shoes. Finally, find a wicker bag à la Sophia in Golden Girls, and tie a scarf you already have around your head to complete your granny transformation.
The gloves are totally optional, but if it's chilly, go for it. They'll also come in handy if you're still in college and going to a house party because somehow every surface gets sticky within an hour.
So, whether you go the glam, cuddly, or comfy AF route, you're now prepared to rock the latest filter fashions this Halloween -- even when your battery is ticking down to 5 percent.