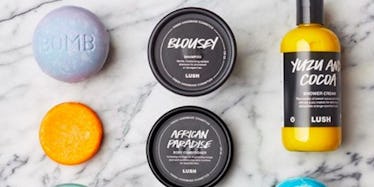 Lush Is Discontinuing Tons Of Your Favorite Products, So Stock Up Immediately
Saying goodbye is one of the hardest things we have to do as humans, and there's nothing more difficult than bidding farewell to someone (or something) we love. That being said, I have some bad news for you lovers of Lush out there: Lush is discontinuing 29 products at the end of the year, so stock up while you can.
That's right. Get ready to say goodbye to some of the most popular bath bombs, shower gels, and hair treatments Lush has in stock. Some of the items we have to let go 0f include the Blackberry Bath Bomb, Dreamwash Shower Smoothie, Kinky Hot Oil Treatment, and the Ultrablast Tooth Powder.
You can see the full list of discontinued items on Lush's website. Lush recently made the heartbreaking announcement on Instagram with a photo of some products that'll be leaving its shelves. Here's what Lush said:
We know you've heard the rumors, and it's true - in order to make way for exciting new inventions, we'll be waving goodbye to some old products this year. Link in bio for the full list of discontinued products.
Saying goodbye to the products we love sucks, but hey, at least this means that we'll be getting new products soon.
Now, before you run to your nearest Lush store with your credit card at hand, be sure to call the store you're planning on visiting because some of the items are only available online while supplies last.
If you're hoping the discontinued items will be on sale, I have even more bad news... because they won't be. Lush already works hard to get us our favorite products at pretty fair prices, so they won't be making them any cheaper.
Look, I know it's unfortunate that so many great products are going away for good, but look at the bright side: fidget spinner bath bombs might be making a comeback.