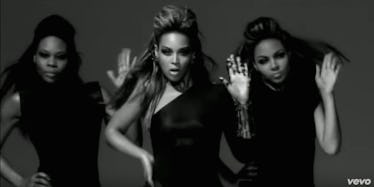 This Little Girl's Sassy 'Single Ladies' Dance Should Be Queen Bey Approved (Video)
Once upon a time, the "Single Ladies" dance was as ubiquitous as a Drake meme.
Single ladies everywhere got dolled up, went out, and broke it down to Beyoncé's hit song, an anthem  —  no, the anthem  —  for the woman who flew solo and loved every minute of it.
This little single lady may have missed the boat the first time around, but that won't stop her from busting out her best Bey moves now.
In the video above, a tireless toddler, whom I'll call Baby Bey, breaks it down to "Single Ladies" like the carefree, independent woman (okay, girl) that she is.
Wearing her mother's heels and a stellar striped onesie, Baby Bey shakes her baby booty along to the song, copying Beyoncé's moves and clearly having the time of her life.
Since its posting on October 29, the awesome home video has been watched over 10 million times.
The dance moves, the energy, the international fame  —  this tiny dancer might give Queen B a run for her money.
Citations: Watch This Toddler in Stolen Heels Crush the Single Ladies Dance Harder Than You Ever Have (Cosmopolitan)