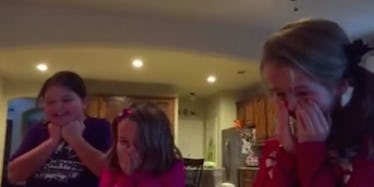 Little Girls Freak Out When They Realize Santa Brought Them A Baby Brother
Some kids ask Santa for ponies. Others ask for puppies.
These girls asked Santa for a little brother — and incredibly, that's exactly what they got.
Courtney Solstad just adopted her son, Nathan, and decided to break the news to her daughters in an exciting way.
She wrote on Facebook,
The girls knew nothing about Nathan until this. We met them at the door and told them that we had been out Christmas shopping and got them a gift to share… and it was under the tree!
As you can probably deduce, the "gift" under the tree wasn't a Barbie Dream House or a new iPad, but rather, a brand spankin' new baby brother. Solstad's daughters promptly lost their sh*t.
We're guessing the excitement will wear off sometime around New Year's Day.
Watch the girls' adorable reaction to their new human plaything below.
The girls knew nothing about Nathan until this. We met them at the door and told them that we had been out Christmas shopping and got them a gift to share...and it was under the tree! #Solstad6 Posted by Courtney Solstad on Saturday, December 5, 2015
Citations: Watch These Kids Totally Lose It When They Find New Adopted Brother Under Christmas Tree (Cosmopolitan)