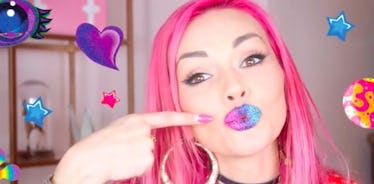 Lisa Frank's Releasing Makeup And It's A Colorful Line Every '90s Kid Will Love
Kickstarter
It's time for '90s kids everywhere to rejoice — Lisa Frank is coming out with a makeup collection.
And yes, it's just as colorful as the awesome stickers, trapper keepers and pencils you amassed back in elementary school.
Lisa Frank has partnered with Glamour Dolls Makeup, a cruelty-free, vegan, low-cost cosmetic line to launch a Kickstarter campaign to raise money for this new endeavor.
Beauty guru Kandee Johnson put out an adorable video to promote the campaign, reminiscing about her fond memories of all the Lisa Frank swag she had growing up. She also admits that her infatuation with the brand definitely did not stop after her childhood:
I think my whole world is still in Lisa Frank colors. I mean, just look at my hair.
According to the Kickstarter page, the two companies set a goal to raise $30,000 for this venture. As of now, they've already reached over $41,000.
Glamour Dolls, Lisa Frank's partner for the project, is an indie brand that works with top beauty factories to design fun packaging and develop high-quality vegan and cruelty-free formulations for their makeup collection.
All Glamour Dolls products are actually $5 and under. And no, that is not one of those fancy shmancy alternative facts.
So far, the first product they've created together is an angled blush brush, which is covered in Lisa Frank's signature rainbow unicorns and complete with a rose gold handle and pink-dipped bristles.
They're hoping to launch at least six more products, including a lip balm, liquid liner, "unicorn lippie," highlight powder and a super-cute vegan leather makeup bag to hold it all.
The Kickstarter page encourages fans to take an active role in the creative process:
This Kickstarter party is for you, the fans. For the makeup addicts that have always wanted to name a product. For the Lisa Frank fanatics who dreamed of working closely with their inspiration.
Say no more. Seriously, shut up and take my money, guys.
Citations: Lisa Frank Wants to Make the Rainbow Makeup Collection of Your Dreams (Cosmopolitan), Lisa Frank Makeup Collaboration (Kickstarter)