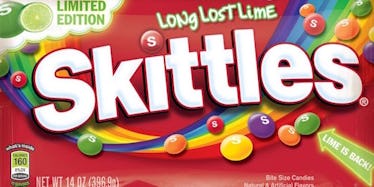 Lime Skittles Are Finally Back For A Limited Time And Twitter Is Losing It
Skittles
I bet you guys don't remember how insanely popular lime-flavored Skittles used to be, do you?
If not, take a seat and allow me to explain.
There was a time not too long ago when the green Skittles inside our candy bags were actually lime-flavored. But in 2013, the flavor was switched to Green Apple, and lime-loving hearts across the nation were shattered.
After the transition, passionate lime-lovers started missing their beloved flavor so much that they began the "Bring Back Lime" movement, which included various petitions and social media posts begging Skittles to bring the flavor back.
Well, it looks like their hard work paid off, because...
LIME-FLAVORED SKITTLES ARE BACK, BABY.
It's true: Lime-flavored Skittles are back on the shelves inside Limited Edition Skittles Long Last Lime packages for candy fiends to enjoy, and we couldn't be more excited to indulge.
Skittles told Elite Daily the new lime-packed Skittles bag will also include the flavors Orange, Lemon, Grape and Strawberry -- so you'll still be getting a hefty dose of all the other fruity flavors.
(I mean, except Green Apple. Sorry, apple fans.)
Take a look at the pretty little bag and put it on your shopping list ASAP.
If you're super into the lime-flavored candies and want to share the love, go ahead and buy the bigger bag.
The more the merrier, am I right?
According to the statement given to Elite Daily from Skittles, there are a total of three bag sizes you can choose from: share size packs for $1.33, the "laydown" bag for $2.48, or the stand up pouch for $6.98.
To be completely honest, I'd love to take home a few of the biggest bags they have -- and apparently, Twitter agrees.
In fact, I've never seen Twitter so excited about a Skittle before.
There is one tiny catch, though: You can only buy these packages at select Walmart stores throughout the country.
In my opinion, the trip is totally worth it. These Skittles will only be available for a limited time, so stock up while you can!