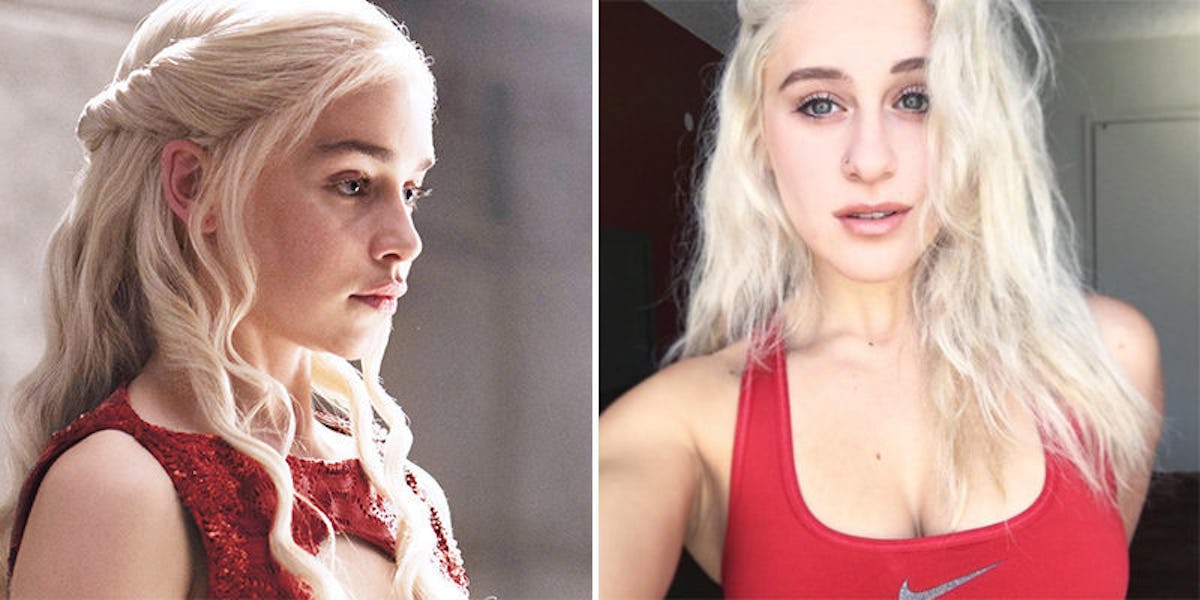 This Trainer Who Looks Just Like Khaleesi Is The Real Mother Of 'Dragains'
HBO/Instagram
There's are all sorts of celebrity doppelgängers who will make you do a serious double take.  A while back, we introduced you to Rosie Mac. You know, the gorgeous gal who plays Emilia Clarke's stunt double on "Game Of Thrones"?
Well, if you thought Mac made one seriously convincing Khaleesi clone, you might want to brace yourself.
We just came across another blonde bombshell who might be even more badass than the OG Daenerys Targaryen.
Allow me to introduce you to Amber Abweh.
This 21-year-old personal trainer goes by the nickname "Swoleesi," and it's not hard to see why.
Abweh looks like she could basically be Khaleesi's long-lost twin (that is, if Khaleesi just so happened to be a competitive powerlifter and was buff AF).
Coincidentally, this fit chick is also a pretty big "Game Of Thrones" fan.
So when people started pointing out the similarities she shared with her beloved "GoT" character...
...Abweh decided to embrace her inner-Targaryen and become "The Mother of Dragains."
Abweh told SELF, "I found that combining these two things really helped some of the show lovers get into a healthier lifestyle and to show the average women that strong is sexy!"
Thanks to her awesome, fitness-filled Instagram account, this Khaleesi lookalike is taking the social media scene by storm(born).
Swoleesi's gym pics prove she's on a mission to conquer the iron barbell.
When she's not dominating muscle groups like a damn Dothraki...
Posting pics of her beastly gains...
Or flexing the fact that she's the strongest gal in all of the Seven Kingdoms...
You can normally find her ruling over the weight room...
...as the almighty Queen of the Andals Athletes.
Yep, when it comes to her workouts, no calorie is left unburned.
I mean, really, who needs fire-breathing dragons when you have biceps like these?
Swoleesi wrote on Instagram, "Powerlifting has been the best thing that has happened to me because I use[d] to always feel insecure about my body. Now IDGAF what people think of my body because I know what it's capable of."
Long story short, this deadlifting Daenerys is bad as hell.
Seriously, eat your heart out, boys.
Citations: Introducing Swoleesi, The Fitness Instagrammer Who Looks Just Like Khaleesi From 'Game Of Thrones' (SELF)